Rebecca Minkoff bag for me to drool all over.
Another day, another
It seems like just as soon as I'm feebly able to convince myself to not buy a particular bag that she makes, she comes out with another shape that I like and I have to start convincing myself all over again that I can't afford a new bag right now. Rebecca, why oh why do you do these things to me?
For today, it's the Rebecca Minkoff Tess Drawstring Bag with which I'm struggling.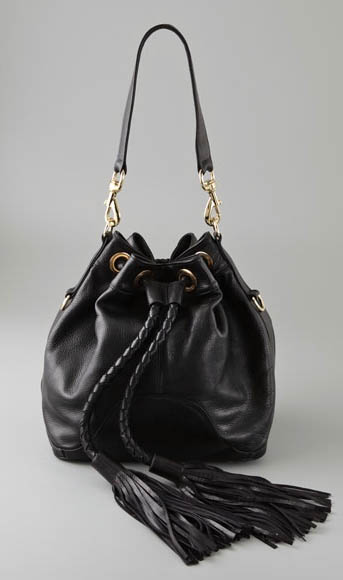 And it's…a drawstring bag. I've never been remotely interesting in a drawstring bag before. I think it's something about the enormous tassels that dangle from the drawstring cord, I'm not sure, but the whole thing just looks so soft and luxurious that it's sucking me in. And who doesn't love a good black bag? I'm not 100% sold, but I'm very, very close. Buy through ShopBop for $595.