I have a love-hate relationship with bags that have hard shoulder straps. Plastic, Lucite, wood, bamboo, whatever – I think they look great. They provide a great textural and visual contrast with a bag that's made of soft leather, and they show a bit of creativity without being over-designed.
So, that's the love part. What I hate is how they feel to carry for an extended period of time, and I can't help but think that the Rebecca Minkoff Resin-Handled Nikki Hobo is going to fall into that trap.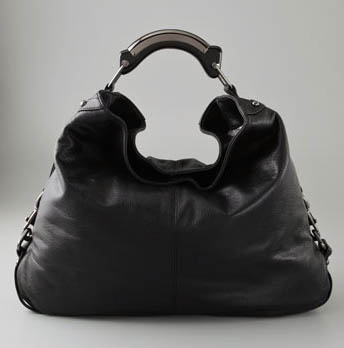 Maybe I'm the only one that feels this way; I do have big linebacker shoulders, after all. But for me, these shoulder straps are usually molded a bit too narrowly and they never end up sitting comfortably on my shoulder. If I have anything of any weight in my bag, they dig in and make the bag impossible to carry on my shoulder. I haven't tried on this particular bag in person, but based on the pictures, I think it probably works better in theory than it will in practice. Buy through ShopBop for $635.