Rebecca Minkoff Exclusive 3-Zip Morning After Clutch is the kind of hot pink bag I am sure I would be able to rock. I am not exactly sure which outfit I would carry it with, but you better believe any black or gray outfit would be fabulous!
Hmmm, hot pink. What do you think of a hot pink handbag? Personally, I'm not a fan of hot pink on huge bags, but on smaller bags, sure why not?! It is always nice to add a bit of flash and spice to an outfit. The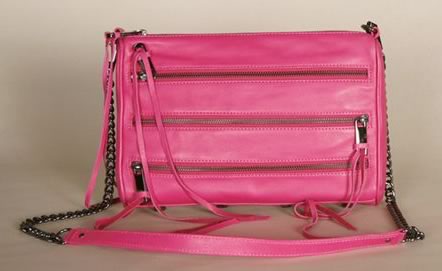 I know that many of you aren't fans of the new zipper trend. So, perhaps this bag might not be for you, but it's at least worth a second look. Like so many Rebecca Minkoff bags, the leather is soft and buttery. The polished gunmetal hardware with triple zip detail actually look nice against the pink leather. Clearly, this is more an edgy bag and won't be for everyone, but even if it isn't me, I'd love to see someone carry it! Buy through Luna Boston for $295.