Seeing as John Lennon's 70th birthday would have been this past weekend, it seems only fitting to discuss the Pour La Victoire Lennon Tattered Leather Satchel. I don't know for a fact that he was the namesake, but, c'mon…of course he was.
I'm also willing to guess that Proenza Schouler's famous PS1 bag was a big part of this design's inspiration. The PS1 has inspired hordes of doppelgangers, and since this one is less literal than most of them, it's a good alternative if you don't want to shell out four figures for Proenza's It Bag.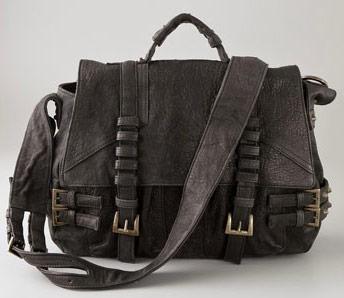 Any satchel with a short top handle, large front flap and two large straps owes a debt to both the PS1 and Mulberry Alexa, but this bag is substantially different in feel than either of those famous purses. It has a much grungier, tougher edge, and the weathered leather and hardware will likely appeal to a slightly different audience than the more traditional interpretations favored by Proenza Schouler and Mulberry. If this one is up your alley, the price isn't terrible, either. Buy through ShopBop for $565.