Gryson creator Joy Gryson, the line is exceptionally well-priced and includes a lot of young, hip designs in neutral leather colors.
There is perhaps no new line that I find more intriguing than Olivia Harris. Designed by former Marc Jacobs alum and
The most affordable bag in the new line is the Olivia Harris Zip Pocket Leather Clutch, and it just might be one of my favorites.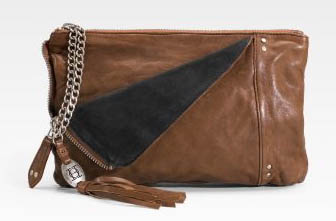 We all know that brown is deeply not my thing, and I would have probably already bought this clutch if it was black and grey instead of brown and black, but that's my own neuroses about color talking. I actually kind of enjoy the combination of black and brown that's going on here – it's an under-appreciated combination that actually looks quite modern for something so simple as two neutrals on one bag.
I can't help but love the cute little chain that serves as a wristlet strap and the tassel that attaches to it, and it looks like it would easily hold everything that I'd need for a night out. The best part, though, is definitely the price. Buy through Saks for $155.