complaining about a particularly bad color choice that Marc by Marc Jacobs made for fall – lavender. It's just not cute. I stand by that assertion!
I spent a decent amount of time last Friday
But because I like the brand as a whole, and also because I like to give credit where credit is due, I have to point you all in the direction of one of his most fantastic color choices: the bright, saturated red of the Marc by Marc Jacobs Strippy Zippy Groovee Bag (try saying THAT three times fast…).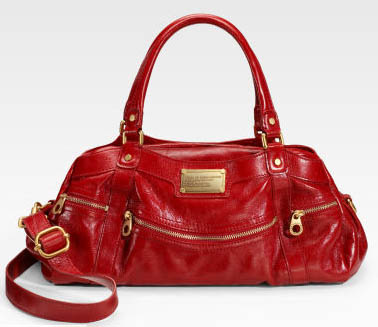 And what a glorious color it is. Because of the way that red pigments adhere to leather, it's really difficult to get a bright, true red to show up on a handbag. It's usually done with the aid of patent finishing to make the color pop more effectively, and you rarely see the kind of vividness in a soft leather. But that's exactly what we've got here, and it's brilliant.
The shape, of course, is classic. It's one of many variations on MBMJ's Groovee theme, and it has both top handles and a shoulder strap (remove the shoulder strap when you wear it, I beg of you) for your carrying pleasure. It has a nice weight to it but isn't too heavy, and it's big enough to hold all of your crap (well, at least, it's big enough to hold all of mine. The size of your crap may vary). And in that heavenly shade of red, what more do you need? Buy through Saks for $498.