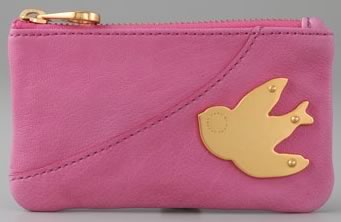 We've brought you other incarnations of Marc by Marc Jacobs Petal to the Metal bags: the Evie Hobo, the Flap Pouchette, and the Sasha Shoulder Bag. Whether you have any of those bags or not, the Marc by Marc Jacobs Petal to the Metal Key Pouch is simple, cute, and showcases that adorable little dove.
If there's one thing that makes me smile a bit on the inside, it's a wallet or pouch that matches my bag- and this little pouch provides the perfect opportunity to do so if you own any of the previous bags. And let's not miss the logo lettering that makes up the eye of the bird- simple yet sophisticated and understated.
Though it's a tiny pouch, it does have the ability to be worn as a clutch, that's for sure. As a matter a fact, I prefer little pouches to clutches- and it's not just because I'm quite petite. I just find it slightly more secretive and flirty to have a little pouch that fits perfectly in the palm of your hand. Buy through Shopbop for $88.