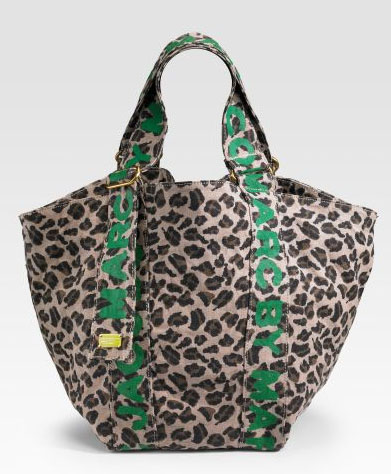 I have a deep and abiding appreciation for a silly handbag moment. Life isn't always serious, and there's room in my wardrobe (and, I suspect, in most people's) for something fun and maybe a bit over the top.
Luckily for us, when there are bags like the Marc by Marc Jacobs Into The Wild Standard Supply Mabel Tote on the market, a fun bag doesn't have to break the bank.
Everyone can use a couple of durable, simple totes in their life, and one with a pattern as wild as this one almost functions as a type of neutral. I wouldn't pair it with other crazy patterns, but the colors that make up a leopard print are normally colors that would be considered neutral if used by themselves, and it's easier to pair it with clothing and colors than you'd expect.
The bright green Marc by Marc Jacobs logos provide a bit of contrast that I enjoy but others might not, and the overall effect of this bag is one that would be useful as a tote for school or the gym – fun, not particularly delicate, and with a pattern that would easily disguise wear and tear. If I was still in school, I'd be happy to put my books in it any day. Buy through Saks for $188.