Goyard, of course (well; they are hand-painted, not printed, and that is a different matter entirely), and I now make an exception for this Marc by Marc Jacobs Doodle Print Tote. Why, you ask?
My view on all-over printed bags is not the most favorable. I make an exception for
Well, everyone's pretty acquainted with the magnificent art of the doodle. But these are no children's drawings, no, not at all. These are sophisticated doodles, doodles that were created by someone who certainly paid little to no attention in class for quite some time. The classroom is where doodles are born, people. I know this. You know this. It may even be a scientifically proven fact. But to have a tote bag covered with doodles? Pure genius.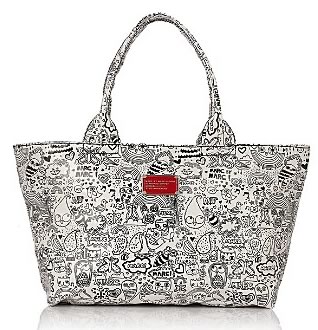 It simply makes the tote so much more fun and whimsical than it would otherwise be. Tote bags can be quite the bore, but this one is anything but. So use it for books, groceries, old copies of W Magazine, or orchid bulbs, whatever your exclusively tote bag filler of choice. Looking at those little animals that perfectly capture the quintessence of that which is Marc by Marc Jacobs will most certainly brighten your day. Buy through Bloomingdale's for $148.