Marc by Marc Jacobs bags. Even if I am not sure I'd like to add a specific one to my collection, I can always appreciate the design and detailing. Yet, today, I came across a Marc by Marc Jacobs bag that I can pre-order through Bloomingdale's that I think I just might have to make mine!
Ladies and gents, finally, new handbags are beginning to surface. I am sure you are just like I am and cannot wait to start seeing some new bags grace retail and online stores. Let me start off by saying, I'm almost always pleased with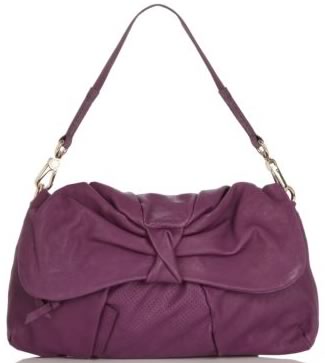 The Marc by Marc Jacobs Bow Wow Wow Linda Leather Clutch is the quintessential bag when it comes to taking your day bag and turning into a night time bag. First of all, I love the supple purple leather on this bag. Purple is the kind of color that always adds just the right amount of pop to almost any outfit.
Move past the color of the bag and I am betting the next thing you are going to notice is the gathered bow detail. It is the way that the leather is gathered that continues to intrigue me and want me to look closer at it. The gathering is loose yet defined, relaxed yet structured, perfect. And better yet, the shoulder strap with a 7.5″ drop is detachable. Whether you use this bag as a shoulder bag or a clutch and you can't go wrong. Buy through Bloomingdale's for $298.