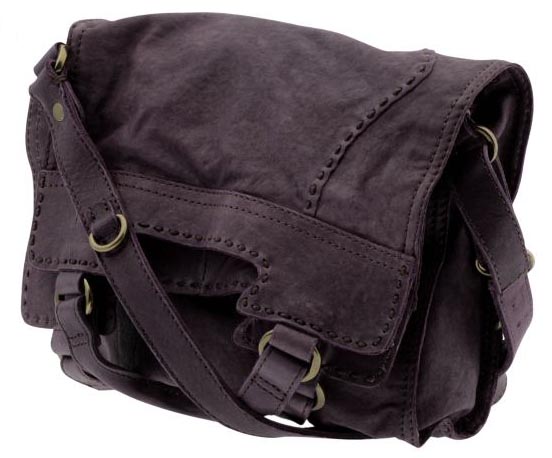 Disclaimer: this bag is not my style in any way. I would not buy it, and if I were to be given it, I probably wouldn't even carry it. But still, for some reason, I find the Lucky Brand Abbey Road Messenger strangely compelling.
The whipstitching and weathered brass hardware are not my favorite, but as a whole, this is the sort of bag that I could see working very well on a particular type of girl. You know the one I'm talking about – wavy blond hair, but it's not highlighted, it's naturally like that. A few freckles, and she's always a little tan, but not fake tan. Likes wearing shorts, and somehow manages to be the only girl whose thighs don't look fat in them. She doesn't often dress up, yet somehow still manages to seem feminine in her Chaco sandals. This would be her school bag.
Since my personal philosophy is "black, black, and more black, and oh yes, let my dye my hair black as well, and how about some black-rimmed glasses to top it off," I cannot buy this bag. But for everyone out there whose look is a little more like the one I described in the previous paragraph, consider giving it a shot. Buy through Piperlime for $178.