L.A.M.B. Briolette Clutch be one of the first bags that we're seeing from the much-anticipated L.A.M.B. Holiday 2010 collection?
Could the
If it is, I've got to say that I'm simultaneously both excited and a little disappointed. Let's take a closer look at why, after the jump.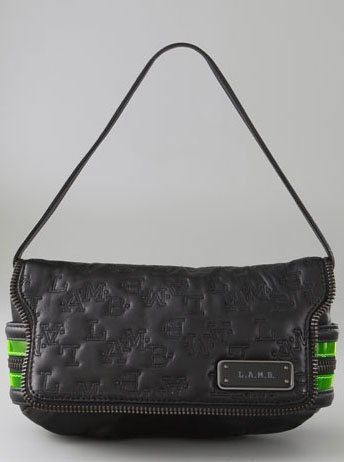 Ok, so, let's be honest here: the logo embossing is not particularly cute. In fact, it's pretty cheap-looking. Luckily it's tonal, which means that it isn't as noticeable as it could be if it was done in a different color. Memo to L.A.M.B. – obvious logos went out of style in 2005.
Other than that, I'm totally digging it. This little shoulder bag is a perfect day-to-night size, and the electric green trim looks great against the larger expanse of black leather. The zippers work really well as a fairly subtle trim, and this is absolutely a bag I would want to own. I can't wait to see the rest of this collection – it very well may be the brand's best yet. Buy through ShopBop for $195.