Kate Spade bag be one to break into my collection? Maybe!
Now lookie at what we have here. Hmmm. There is something that I kind of like about it but I can't quite put my finger on. Well, first of all, I have yet to own a red handbag. I realize I probably should at least have a red clutch, but that isn't the case. I am trying to diversify my handbag collection and I am pretty sure a red handbag is much needed. So will a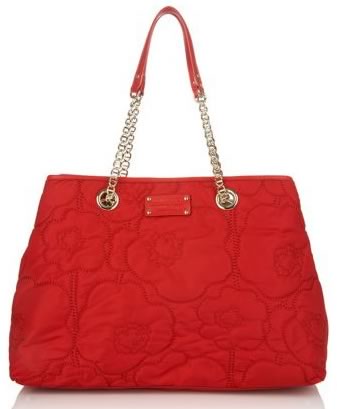 Again, there is something whimsical and feminine about the Kate Spade Quilted Poppy Fields Maryanne Tote that has me captivated. I am sure it is the tonal embroidered poppy motif that really plays on the flirty red color of the bag that makes it so lovable. The double chain shoulder straps make this bag stand out just a bit more than normal straps would have. I can see that some of you might think it looks like a diaper bag and I can see that, but I don't think that is the aspect to focus on at all. Buy through Bloomie's for $325.