Kara Ross Gemma C Clutch embodies all of these things. When I look in my closet, most of the clutches I own are a little more edgy and less sleek. I think it is time to switch things up a bit. Especially with the Holiday Season right around the corner, we all could use a classy clutch for a dinner or holiday party.
This is a gorgeous clutch. It is as simple as that. I love clutches that are sleek, sophisticated and elegant. The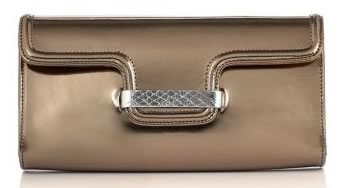 I totally appreciate how grown up this clutch is while still remaining fashionable. I feel as though some evening clutches can border on the edge of looking too old and outdated. This bronzed metallic patent leather clutch has genuine python trim which helps accentuate some of the best features of the clutch. It is timeless, elegant and gorgeous. While I would love to carry this with a fabulous dress, I can see myself using it with a pair of skinny jeans, ruffled blouse and other great accessories. Buy through Bloomingdale's for $425.