Generally, we try to write about a bag only once, but we sometimes have to go back and reevaluate what we've said when new information becomes available. It's our duty as handbag journalists!
And one of the most important things when looking at bags online is the number and quality of photos available. Since ShopBop redesigned their website a few months ago, their photos have gotten larger, more detailed and more numerous, and that only benefits all of us out here trying to decide on which bag to buy, sight unseen. And the new bags certainly do a lot of favors for the Jerome Dreyfuss Billy Bag.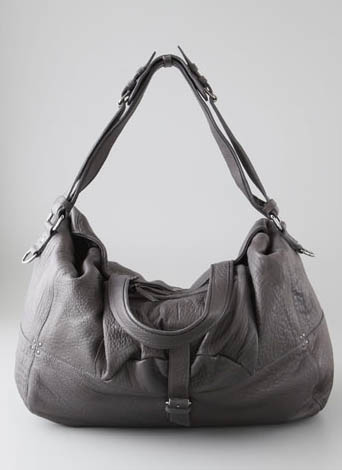 When we visited the Billy Bag the first time, it looked great as a tote but it was hard to see how it would translate to shoulder-carrying, other than as a foldover of sorts. And that's all fine and good – most convertible bags really only look good carried one way, in the end.
But based on the pictures we have of the new leather version, it looks as though it folds in on itself to create a really nice hobo shape that I wouldn't have expected at all from the previous pictures. The shoulder strap is just long enough to make it look like it was intended to be carried that way, and because the top handles aren't super structured, they lay flat better than those of most convertible bags. On top of all of that, the leather that they use looks thick and gorgeous and grey is a key color for fall. I can give this bag no less than a ringing endorsement. Buy through ShopBop for $908.