For certain occasions, you need a bag that can hold your entire life: work, school, a rainy day in need of a significant umbrella. Other times, you just need the basics, and having a larger bag would be overkill. For those times, allow me to suggest the Marc by Marc Jacobs Party Foret Chain Wallet.
The word "wallet" is a bit misleading – in addition to your cards and cash, this little bag is big enough to hold all of your essentials on a convenient cross-body strap.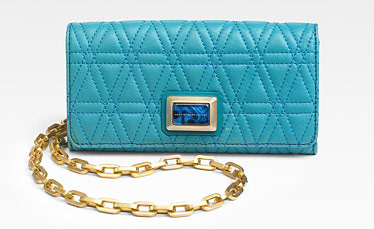 This bag won't get you through a day on campus or at the office, but for an afternoon of shopping when you only need a couple of things and you want your hands to be free, this type of bag is exactly what I would carry. Not only that, but after dinner, it will transition perfectly to being a small pop of color in your night-out ensemble. For the price, this bag could serve a variety of fashion purposes. The contrasting blues of the leather and the nameplate make this design a little bit extra-special. Buy through Saks for $288.