Like UGG before it, Hunter doesn't just want to be known for its utilitarian mid-priced boots. No, no – the company wants to parlay its popular wellingtons into a nouveau British empire (of the accessories sort, not the colonialist sort, of course).
First Hunter introduced stylish, non-rubber shoes and boots, and the next logical step was handbags. Enter the Hunter Adelaide Field Bag, the strongest member of the brand's neophyte accessories collection. If staid British style is your thing but Burberry is too logo-covered (not to mention too expensive) for your personal taste, this is a brand you should watch.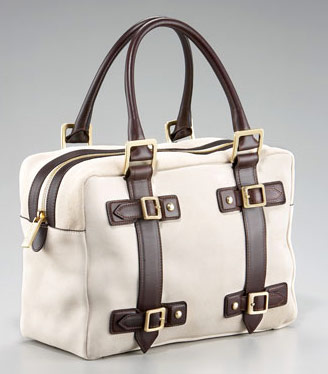 Most of Hunter's collection doesn't show brilliance or innovation, but it does do the British heritage thing pretty well and at a somewhat reasonable contemporary price point. The bicolor construction of this bag in particular is what drew me in, and the chocolate leather straps accent the ivory background quite well. I have no problem at all imagining this design paired perfectly with luxurious brown equestrian boots and a cashmere sweater. Buy through Bergdorf Goodman for $595.