We cover a handful of brands on PurseBlog Savvy that are real lightening rods among our readers. The most obvious of these brands would be Coach – the posts on their bags always get a lot of attention because half the people are excited that we wrote about them and the other half have showed up to complain that we gave them the time of day in the first place.
Increasingly, Rebecca Minkoff is one of those brands as well. Some people love to read and comment about them, others are sure that we're getting paid to write about Minkoff's bags (let's dispel that myth right now – we're not). Because I'm clearly in the mood to ignite controversy this week, however, let's talk about another of Minkoff's bags – the Rebecca Minkoff True Love Hobo.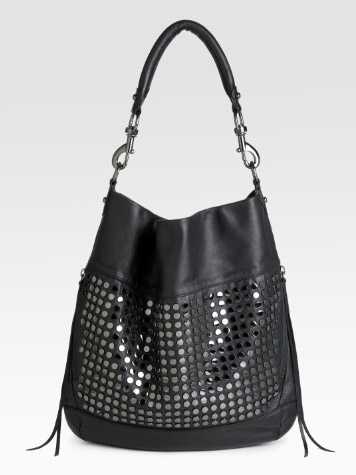 Surprise, surprise – I like it. I've liked most of the bags that Minkoff has released recently, which is a nice change from my feelings about her previous collection. The flat, minimalist round studs are a nice change from the domed or pyramid studs that dotted bags from nearly every brand last season, and their geometric arrangement is both stylish and glam without being over-the-top. I like the hardware that's used in the handle attachments, and overall, this is a bag that I would love it have my closet. Buy through Saks for $495.