I'm not a big suede fan. It looks kind of dated and at times kind of cheap, and because of the texture, it gets dirty oh-so-quickly. I've never seriously considered buying a suede bag, and I doubt that I will any time soon. It's not part of my personal style.
But someone's got to be buying them, because people keep making them. And if you're in the market for suede, the Furla Elisabeth Camoscio/Croco Hobo might just be a great bet.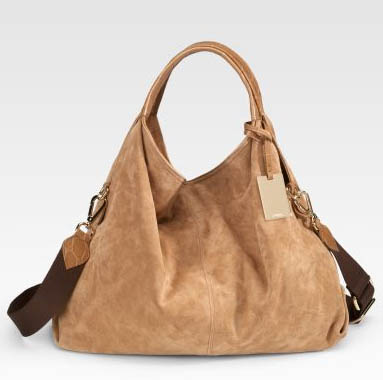 This bag is so thoroughly not my thing, but I can totally see why someone with a more conservative aesthetic (or that has a lifestyle need for more conservative bags) might like it. It looks roomy and comfortable, and the suede, despite being suede, looks pretty lush and touchable. The name of the bag seems to promise more croco-stamped trim than it delivers, but the extra carrying strap is a practical touch, even if webbing looks super cheap. As always, I'd take it off, but not everyone has the same bag habits I do. What do you think? Would you happily carry this bag? Buy through Saks for $475.