I love the leopard trend, but it does have one negative side effect: it tends to make bags either really expensive or really…nylon. Printing on leather can be awkward, and most designers choose to either go furry or avoid natural and natural-seeming materials entirely. Calf hair can shoot the price of a bag up by hundreds of dollars (although I'm still not entirely clear on why), so if you're on a budget, you're often left to deal with a dowdy synthetic.
Until now – the Elie Tahari Selena Tote manages to give you leopard-printed calf hair without a significant price increase over the leather version of the same bag. It's about time, eh?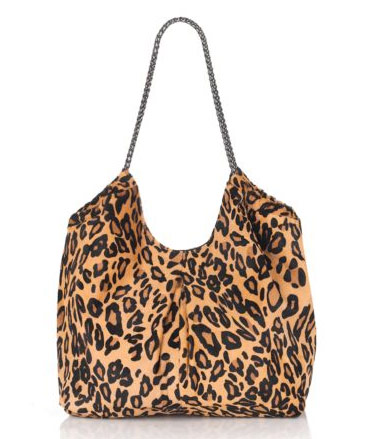 I have the same problem with this tote that I had with the leather version – I'd like to see a leather insert at the top of the chain handles to increase carrying comfort. Overall, though, that's a small quibble for a bag that fits the season's trends so perfectly while still staying within budget. If you're looking for a luxurious leopard option on a somewhat strict budget, this is the bag for you. Buy through Bloomingdale's for $595.