For how much I dislike most of the Donna Karan Collection bags, the brand's lower-priced DKNY line still manages to amuse and delight me almost every time. They use fabulous colors and make bags with clean lines that are easy to wear and that simply look chic instead of looking like they're pursuing trends or hype.
I'm not much of a fan of fake croc in general, and this is certainly not the best fake croc I've ever seen, but the DKNY Croc-Effect Leather Shopper still gets it right overall.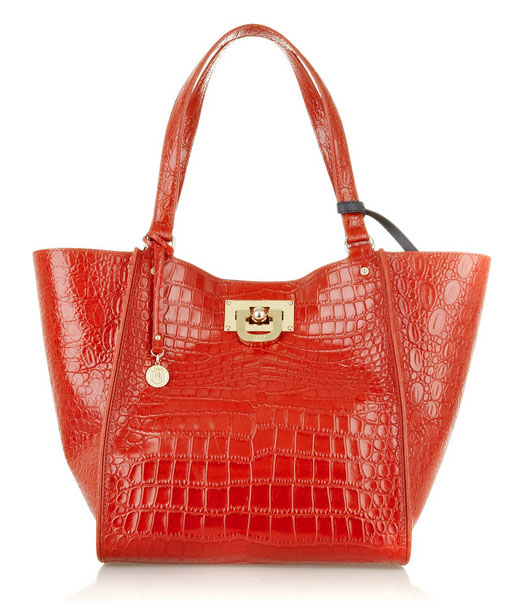 This just seems like a bag that would be really easy to carry – throw everything in it, throw it over your shoulder, and go. Believe it or not, reddish orange doesn't clash with much (except for red and possibly purple, although don't tell that to Clemson fans), and it sort of qualifies as a neutral by being the bastard second cousin of tan.
The material looks a bit plastic and is obviously not even tangentially related to real croc, but the bag is made of leather and as such, its price is quite reasonable. I hope DKNY keeps making simple and stylish bags, I would imagine that their look appeals to a wide swath of handbag customers. Buy through Net-a-Porter for $295.