Towards the end of last year I covered a really great Diane von Furstenberg clutch that I really loved. There was something extremely feminine yet edgy about the Diane von Furstenberg Belle Studded Clutch. That same combination came to my mind when I saw this clutch, yet there is definitely more of a rocker edge that is screaming out to me.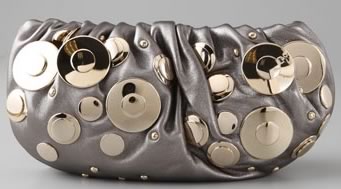 Obviously this is the kind of clutch that is needed for a specific outing along with a specific outfit. If you aren't careful, pairing the Diane von Furstenberg Metallic Belle Evening Bag with an already loud outfit will result in nothing short of a disaster. However, with the right minimalistic outfit, this clutch will shine all night long.
The metallic leather clutch, as you can see, has several assorted metal paillettes, stud, perfectly planned pleating and a detachable shoulder strap (12″ drop) . Yes, this clutch is very much a statement piece, but I definitely think when paired correctly, this clutch is fabulous and fun. Buy through Shopbop for $450.