The more Diane Von Furstenberg gets used to the handbag game, the better the brand's collection gets. We've only seen a handful of accessories collections from DVF, but with bags like the Diane Von Furstenberg Harper Day Bag, Spring 2011 is set to be the best line yet.
Smaller, more ladylike bags have been in fashion for two or three seasons now, and the best ones are almost always made by brands who charge an arm and a leg. They require a great deal of precision and design confidence in order to execute correctly, which can sometimes be a problem for brands using less expensive materials or manufacturing processes. For DVF, this stuff doesn't seem to be an issue.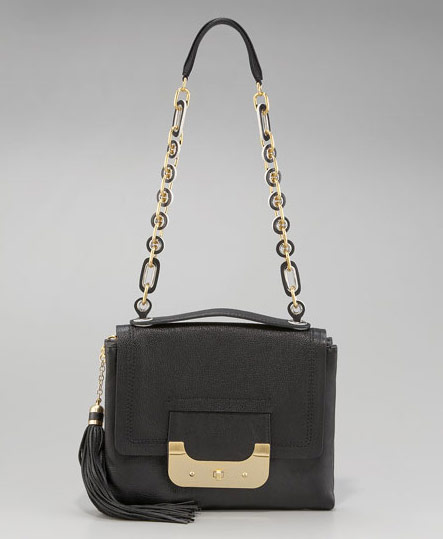 If you can keep your purse contents to just the essentials, a tailored, diminutive shoulder bag like this is among the best ways to go from day to night without needing to switch bags. And with a purse this cute, you won't want to. Normally I would prefer silver hardware for a design like this, but the gold chain with black insets and the broad, simple closure give the bag a nice retro feel. Buy through Bergdorf Goodman for $695.