DVF handbags lately and if the brand keeps this up, they are going to continue to grow like wild fire. Each bag that I've seen shows great attention to detail no matter how large or small.
This bag certainly doesn't look like a messenger or cross-body bag, but apparently, it is. Well, I guess it all depends on what your definition of messenger bag is. As soon as I let myself move passed the name of the bag I was able to actually appreciate it for what it is – gorgeous. We've been covering quite a few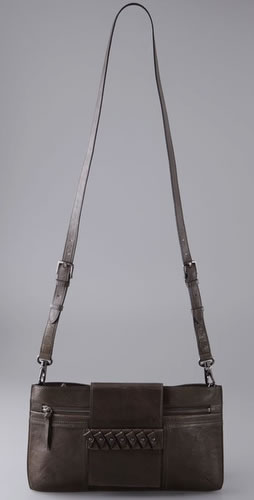 Although the Diane von Furstenberg Amelia Flat Messenger Bag has a name that confuses me, I am totally loving the bag itself. One of the main reasons I am loving the bag is based on the fact that it can be worn as a clutch, shoulder bag or messenger bag. I don't know if I'd like it as a shoulder bag because it seems like an awful lot of shoulder strap for just a medium sized bag. I imagine the bag constantly hitting my side as I walk – not a good thing.
But as a clutch – now we are talking! Gorgeous pebbled leather features a few different zip pockets as well as studs at the front as well as gunmetal hardware. Gunmetal hardware is underused. We see gold and silver all the time and although gunmetal looks silver, it is actually much different. Not only is there a detachable shoulder strap but there is also a detachable handle. I'm loving all these options! The dark leather is perfect for fall and can be paired with both casual and a bit more dressed-up looks. Buy through Shopbop for $375.