Is Coach trying to emulate the Power Puff girls? Perhaps I'm missing something, but this mini collection within Poppy is really quite awkward, unless if you're thirteen. I mean, I'm sure this Coach Poppy Pepper Slim Tote could be worn ironically à  la Japanese Harajuku girl style, but it's not the sort of bag you want to clomp into the office with on Monday morning. You'd get looks.
Coach makes too many good bags for me to let this one slide- it's constructive criticism, my friends. I mean, the Coach website says the following about this questionable tote: "Spice up your fashion profile this spring, and give the world a knowing wink." Really? Really. Perhaps people passing you on the street would give you knowing winks, a knowing wink just meaning a sympathetic wink accompanies by a slightly terse smile. I got one of those mere minutes by a fellow computer lab user just for looking at this tote.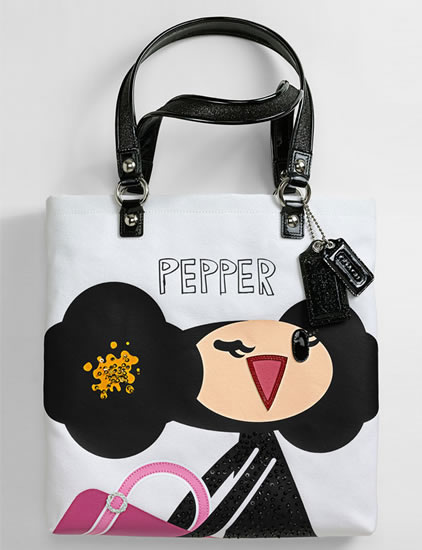 Oh guys, let's not forget that you can buy a whole set of these totes! That's right: there's the cherry, the Pinky (and the Brain?), the Lemon, and the Minty. How nice. You can really build a well-rounded collection with these! But if you're really into these totes (and are thirteen years old) then buy through Nordstrom for $198.