Coach Parker Slim Tote is a prime example of that ingenious design.
Oh, Coach. We love you because we can depend on you to turn out marvelously simple yet sophisticated bags year after year, season after season. And this
See, I'm a what I like to call a "Coach Purist," meaning that I adore the original Coach bags made of heavy leather in base colors, accented only by metal zippers and matching turnlock closures. They were practical, but oh-so-stylish when they achieved the soft, worn look. And this bag recalls those original Coach designs, but with a decidedly modern twist.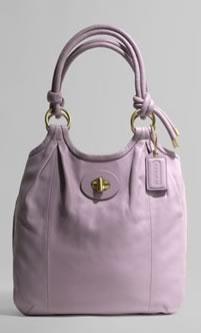 The light mauve is a very minimalistic color; it's a baby lilac turned grown-up with a tiny splash of grey. At least that's my view on how that sleek shade was achieved. The hardware and turnlock closure were also treated to makeovers, as they're a brighter gold rather than the brassy color favoured in the distant past. And as far as I can tell, the turnlock doesn't actually do anything; it's just there as a tiny homage to Coach's signature design. As for my favorite part of this tote, it's not the functional shape or the total wearability. It's the novel leather rope straps, which tie casually to one side. Buy through Nordstrom for $358.