I said a lot of not-so-nice things about Cleobella when I first started reviewing the brand's bags last year (and believe me, the things I thought and then decided to keep to myself were even less nice), but somewhere along the way, the brand managed to makes little tweaks here and there to its boho aesthetic and turn itself into a brand that I almost always like. Cleobella might not cater to my personal style, but bags like the Cleobella Tristyn Tote will certainly look great on someone.
And really, I think we all know who that person is. She's the urban girl who has wholeheartedly embraced the luxe-boho look. She's the girl who Gretchen from the most recent season of Project Runway really, really wants to channel. She has long, loose, wavy hair and somehow, it always looks perfect, even though you suspect that she didn't actually do anything to it that morning. This bag is for that girl.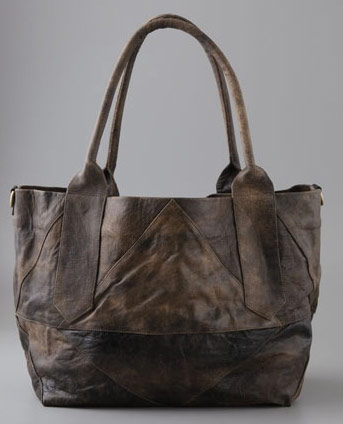 It's difficult to make a simple bag accurately convey a specific personality, but this one does an admirable job of it. The varied, weathered look of the brown leather very clearly brings about a vintage feel, and the fact that it's this color and not black ensures that the look is hippie instead of biker. The patchwork assembly also makes sure this bag stays on its boho bent, and even though it wouldn't work in my wardrobe, it surely would for many young women. Buy through ShopBop for $495.