Bulga Hamilton Studded Leather Flap Tote. There are aspects I can appreciate and then others that I think totally miss the mark.
Alright, help me out folks, it is time to weigh in on a bag that I just can't seem to wrap my head around. I found myself totally and utterly confused when I came across the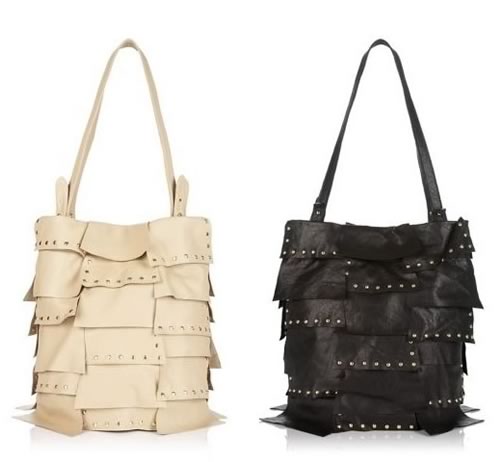 First of all, it is pretty clear that this is the kind of bag that will appeal to only a select group of handbag lovers. I saw the white version before I saw the black and the white is a huge turn off. The black option is a bit better, but not much. If you like it, I say go for it, but it looks a bit sloppy to me. In fact, it kind of reminds me of a shaggy dog. The studded flaps almost look like leather swatches simply thrown together. The asymmetrical aspect of the bag is admirable, but again, misses the mark. Double shoulder straps make perfect sense for this large tote, but that is about all that makes sense. Anyone else think differently? Buy through Bloomie's for $625.