I wear a ton of black and grey and prefer to introduce color to my outfits via accessories, but that can be a little tricky during the winter months. Having some sort of thread to tie a brightly hued bag to your larger look can be difficult to find, particularly during the day when bags are bigger and color statements are larger by necessity.
The Botkier Howard St. Snakeskin-Embossed Satchel offers the perfect opportunity to pair bright color with your dark wardrobes because of the inherent color variation of snakeskin. Sure, this bag doesn't exactly follow the natural color scheme of any reptile of which I can think, but it has all the necessary dark parts for outfit continuity, which is all you need.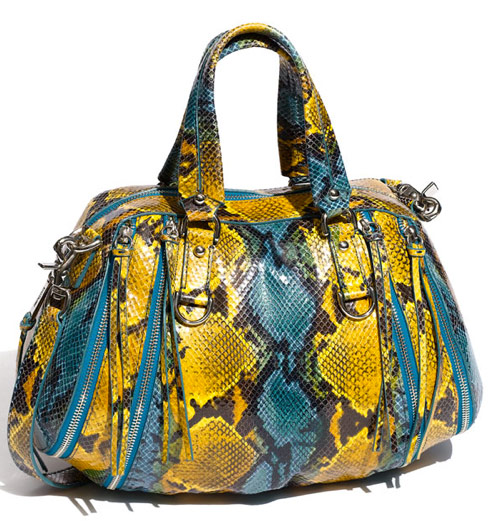 For those of you who are unconvinced about the wisdom of wearing these shades of yellow and turquoise during the winter, fret not. I have a bright yellow bag that I carry at all different times of the year, and people seem to appreciate it all the more when it's cold outside (or at least that's when I receive the most compliments). Working brights into a dark wardrobe is easier than you think, and this bag gives you the perfect opportunity to try it out with your own wardrobe. Buy through Nordstrom for $575.