I absolutely LOVE when I hear about designers who give back. While I was checking out Shopbop I came across this bag. Honestly, I looked at the bag first and when I figured I liked it a bit, I glanced over at the name of the bag only to find out that there is a greater purpose with this bag.
The Botkier Michelle Satchel was designed by Michelle Trachtenberg and Monica Botkier. Michelle a celeb, and Monica a designer have come together to create this bag and donate 50% of the proceeds to Oxfam International, a group of non-governmental organizations working to fight poverty and injustice. Ok, but back to the bag…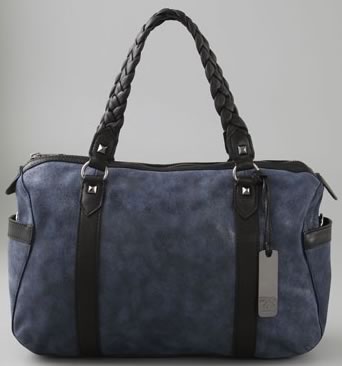 The glazed, distressed leather handbag boasts contrast trim. I am liking the sapphire color of the bag. While I don't know if I would have looked at it and thought it was sapphire, I do like the color. The contrasting black braided double handles look great with the bag. If you would like to carry it on your shoulder, there is a detachable shoulder strap with a 17″ drop. Like all Botkier bags, there is ample storage space and plenty of pockets. This bag would be prefect for day to day use and will definitely hold up throughout seasons. And again, why not buy a new bag and help out a larger cause? Buy through Shopbop for $545.