Botkier Harper Studded Leather Hobo. No, this hobo is much more subtle, with a few quiet, strategically placed studs in lieu of the masses of the things on a bag that could truly merit that name.
The truth is, I wouldn't use the word "studded" to describe this particular
That said, I'm one of the few people nowadays who isn't participating in the Great Stud Revolution of Fall 2009 and Winter 2010. I prefer my studs to be small and simple, much like these round nickel button studs on this particular Botkier. The seriousness of those studs nicely contrasts with the thick straps encircling the bag.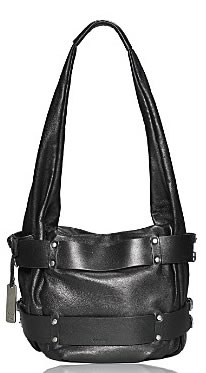 While those pleasing loops prevent this hobo from being plain and black, albeit made of great leather, the studs bring those same loops down to earth, holding them in place. I rarely like black bags, but this one strikes the perfect balance between utterly stark and completely busy. Now if only we could have miniature loops on the shoulder straps, like little cuffs; Buy through Bloomingdale's for $625.