It wasn't all that long ago that we told you about the Botkier Bowie Satchel. Shortly thereafter, my very own Bowie Satchel arrived in the mail, much to be unending glee and happiness. The bag is pretty great – it may be a functional, neutral satchel, but the sleek, architectural ribbing across the front gives it a look unlike anything else on the market. In a contemporary bag market that's largely derivative, the Bowie bags are something very rare: original.
Which is why I couldn't help but also write about the Botkier Bowie Crossbody Camera Bag. We all know that small crossbodies are all the rage right now, but the sleek details and retro feel of this particular option keep it a step ahead of the rest of the pack. And isn't that exactly where you want to be?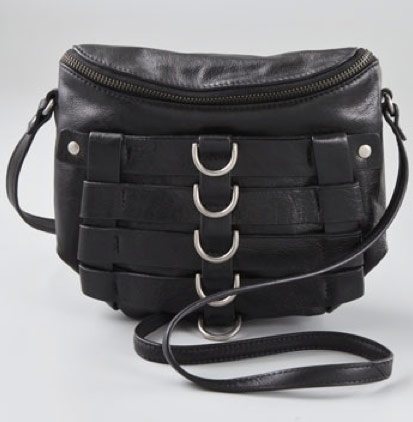 Mostly what sticks out to me about this bag is that the name is exactly right – it really does look like an old-school leather camera bag, something that might have been worn by an ultra-chic photographer of the time. The hardware and strips of leather help to give it a modern edge while the shape and zip-around opening make its inspiration clear. With a sub-$300 price tag, this might be a great way to buy in to summer's biggest trend. Buy through ShopBop for $295.