Botkier Aiden Satchel is beyond lovely. I am a huge fan of the burnt orange craze that is going on these days. This is a color I hope doesn't go anywhere any time soon. Some stray away from bright colors like orange, but the darker hue is one that is bound to change minds.
Oh Botkier, you continue to make me a happy girl. I was literally thrilled to see this bag today. The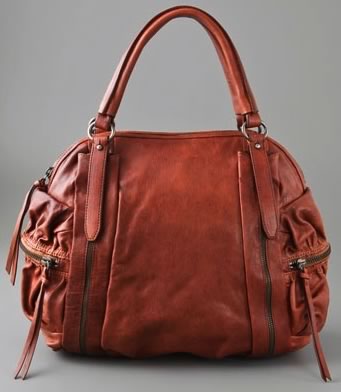 Botkier knows how to execute a lovely bag. The pebbled leather has just a bit of ruching and pleating to break up all the luscious leather. Zipper detailing along the wraparound banding is absolutely fabulous. I love that I continue to see some great zipper detailing added to bags. Of course, like every other kind of detailing, too many zippers can be over the top, but with this bag, they work perfectly. Buy through Shopbop for $595.