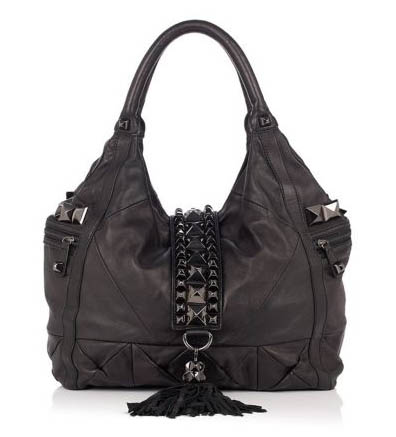 Y'all? Are you guys seeing what I'm seeing? Because if more Betsey Johnson bags looked like the Betsey Johnson Whips & Studs Tote, I'd have a whole closet full of 'em, particularly at sub-$400 prices.
What Betsey usually doesn't do very well is apply restraint to her disco-punk aesthetic, and if she did so more often, perhaps we'd have more bags as successful as this one. Yes, studs and black leather have been done already this season, but this one looks just as high-end as anything we've seen in much higher price ranges and from much more "serious" brands.
I think the key to this bag is relegating the actual studs to the middle flap and side gussets, but mirroring the structure of the studs in the quilting that runs along the bag's base. It provides a nice balance without overloading the bag with hardware, and the matte black leather that they used gives the bag a great slouch and looks like it would be soft to the touch. My personal favorite part, though, is the big tassel at the end of the flap. Buy through Bloomngdale's for $368.