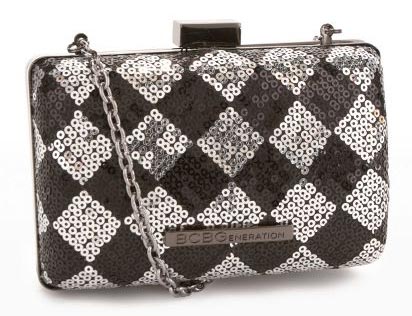 Just because New Year's Eve and the parties it promises have come and gone doesn't mean that we should all stop lusting after tiny, shiny clutches. Quite the contrary, in fact! New Year's Eve is merely our yearly reminder of how fun they are, even if they're not very functional.
To get your after-NYE clutch love off on the right foot, we've got something sparkly, impractical, and totally glam for you: the BCBGenerations Hayden Box Clutch. Best of all, at well less than $100, you won't feel too badly if you only use it a few times (or save it for next year's performance of "Auld Lang Syne.")
The silver and black diamond pattern is a little bit harlequin and, for some reason, reminds me of a disco version of Alice in Wonderland. It's been to long since I've actually seen that movie for me to understand why my mind is making that connection (if there is indeed any reason – that there is remains wishful thinking on my part at this point), but it seems like an Alice moment is about to happen in fashion, so all the better.
And even if you don't buy any of that, it's neutral, shiny, and $78 – which is to say, it's kind of a no-brainer. Buy through Dillard's for $78.