When I was a little girl, I always loved going to visit my grandma and grandpa. Their house was always filled with wonderful smells, lots of love and plenty of fun things for little girls to play with. My grandma held onto several handbags she and her girls owned and there was one I've never forgotten about. It was a straw bag with really exquisite detailing. In fact, this bag very much reminds me of the bag I just described. So, I am not sure if that is why I like it or if there is something else about this Anya Hindmarch creation that intrigues me.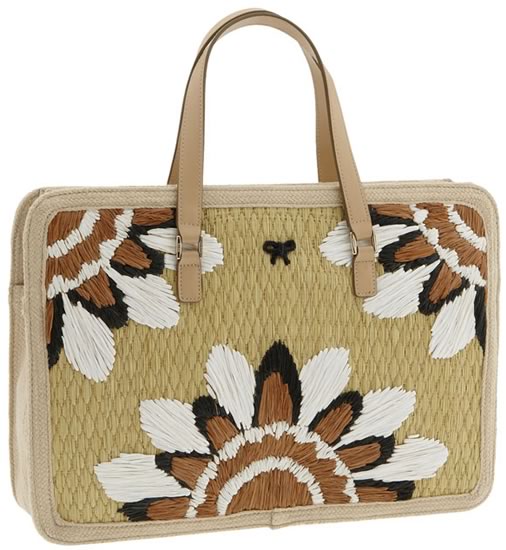 Before I go any further, I have to admit, I don't think I'd spend the money to buy this bag, but I can appreciate it for what it is. The Anya Hindmarch Rhea Straw Tote is a unique tote, one that you certainly won't see everywhere. I know that neutrals are really hot, but I really wish there was a bit more color on this bag. The natural embroidery along the front of the boxy tote might be appreciated more with bright colors. There is a top zip closure and a few pockets to choose from in the bag.
I mentioned earlier how this is a bag you won't see everywhere. In addition to that, this is obviously the kind of bag that needs to be paired with the perfect outfit. When looking at the bag, I imagine it with a fun and flowing dress or skirt. I picture lots of movement in the outfit since the bag is a bit structured. It would be the perfect bag for a trip to the park or farmer's market. Buy through Nordstrom for $495.