Shock of shocks, folks: this bag isn't made of suede. I know, I'm shocked too.
In all actuality, the Andrew Marc Amadeus Anastasia Leather Hobo is made out of highly processed matte leather, and if looks are not continuing to deceive me, it appears to be wonderfully soft and supple – perfect for the hobo shape.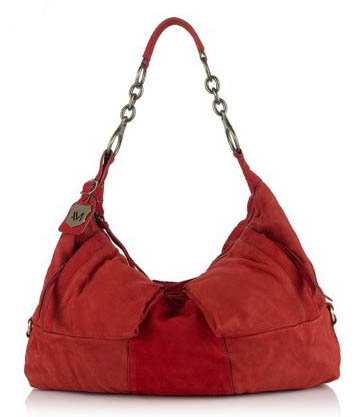 Even on close-up, I'm still kind of wondering if this bag's material wasn't misidentified on the Bloomingdale's website. It has such an oddly tactile look to it – nubby and matte, just like suede. I bet it would feel like buttah in person.
They also did a fairly decent job of avoiding one of the major color pitfalls of the leather world: the red dye is decently vibrant. Usually reds read brown, particularly on super-soft leathers, but it's saturated enough in this situation that the brown undertones don't overtake the color. It could be a bit better, but few designers can pull off that combination of color and material. Buy through Bloomingdale's for $395.