Yes, I realize that here we have two Alexander Wang posts back to back. While maybe I should apologize for this, I'm not going to. Sorry folks, I couldn't help myself. See, as soon as I came across this Alexander Wang Cher Large Siamese Clutch, I had to stop everything I was doing and write about it.
Another thing I realize is the fact that Alexander Wang is often off of his rocker. Now sometimes being off your rocker as a designer is a good thing and then there are other times it is a bad thing. In this instance my friends, it is a bag thing – a very, VERY bad thing.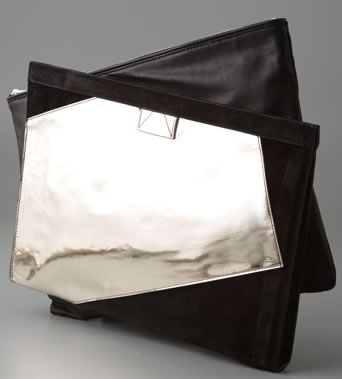 I cannot figure out for the life of me what Wang was going for with this clutch. Ok, that's a bit of a lie. Of course I realize he is pushing the envelope (eeeks, bad pun… which was intended) with this clutch but did he have to do so to this extent? Probably not.
This oversized leather clutch has contrasting mirrored leather against suede as well as contrasting angles. It appears as though Wang has taken two large envelopes, flipped them around a bit and added some glue to fasten them. Typically I try to find at least some kind of use for each handbag I write about, but ladies and gents, I am stumped. There is no way I would carry this anywhere; it's just not me. However, if this is something you want to rock – go for it! Buy through Shopbop for $780.