Drawstrings are totally the thing right now. It seems like every designer is trying to incorporate into their bags in some way, but let's be clear: just because drawstrings are trendy doesn't mean every bag needs one. Sometimes adding in a drawstring for no reason seriously screws up a bag's lines and structure, which looks to be the problem with the Valentino Sequined Satchel.
Normally, when you put the words "Valentino" and "sequins" in the same phrase, you can go ahead and sign me up for the bag – nine times out of ten, I'll love it. This particular bag, however, is that tenth time. The drawstring makes the design look oddly flat and circular, like it could be used as an enormous, luxurious frisbee if it were only a bit more rigid. What's worse is that the vortex pattern of the sequins (they claim it's a rose – looks like a vortex to me) seems to indicate that they intended the bag to look like that.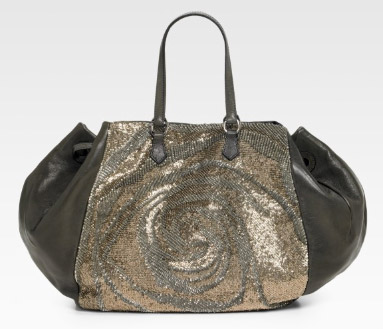 Fortunately for the bag, the sequined pannel is actually quite lovely. The subtle pattern gives the bag a luxurious feel, and such close attention to detail is characteristics of the brands better bags. If it was just the sequined pannel and regular side gussets, I'd probably be giving this tote a passing grade.
But the weird end parts can't be ignored. They're oddly wide, which is a problem in and of itself, but they're also pulled in at the top by a completely unnecessary drawstring, which gives the bag its odd, disc-like shape. It would have been marginally better without the drawstring and light years better without the side panels at all. Buy through Saks for $2620.