Tonight was VIP night of the Rebecca Minkoff Sample Sale. Vlad and I had the pleasure to host the event with Rebecca. Believe it or not, this is our first RM Sample Sale to attend. We expected mayhem and tons of bags. We got both, along with the opportunity to meet some amazing PurseBlog readers and PurseForum members.
When we first arrived, the line was already 30 deep. Vlad and I walked up to the door which most likely annoyed everyone that had waited for hours. I don't think many know us by face so we clearly looked like those people trying to cut everyone in line. The security guard inside was baffled by our trying to walk in to check out the loot as well. But he opened the door and realized we were supposed to be there, so he let us inside.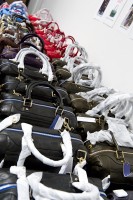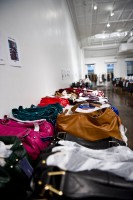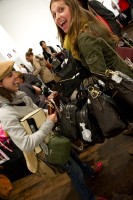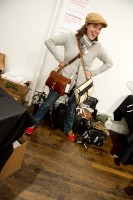 The warehouse is large and spacious. Long tables are lined up topped with bags meticulously clumped together by style, size, and color. There were photos of celebrities spotted with each bag taped along the tables. Rebecca Minkoff had plenty of staff there to keep order who were receiving their guideline for how the night would run when we walked in.
Vlad and I went back outside to take photos of the line. Funny thing, anytime you go to take a photo of a line of bag loving ladies, they immediately pose with their bag. Made it amazing for us to bag-see and also great photo-ops. I chatted with the person who was first in line. She arrived at 11:00 am and had been in line since then. She drove all night from North Carolina to be here today. Kid you not. She not only earned the first spot in line but she also deserved it. The ladies behind her came in from Connecticut and I caught up with them after the sale – they both had three bags filled with Rebecca Minkoff bags.
So let me get to the sale itself. Doors opened at 4:02(ish). I somewhat expected a mad-dash. But everyone came inside with intention and brisk walking. We watched as many utilized bag grabbing techniques. In a matter of moments bags were lining arms from hands up to shoulders. Once many felt like they had checked out all being offered, they went to a corner somewhere, placed everything on the ground, and began to sort. More people came in, more bags were scooped up, more bags were brought out. We got to meet quite a few PurseBlog readers and PurseForum members (shout out to the reader who loves Amanda's Gossip Girl recaps!).
If you are in NYC you must check out the Rebecca Minkoff Sample Sale which runs the rest of the week. Shop Rebecca Minkoff online. And check out the rest of our pictures in this Rm forum thread.
P.S. Please consider supporting our small, bag-loving team by clicking our links before shopping or checking out at your favorite online retailers like Amazon, Neiman Marcus, Nordstrom, or any of the listed partners on our shop page. We truly appreciate your support!