In my younger years I was much more frivolous when it came to spending money. Be it a new bag, clothes to wear for the weekend, or outings with friends, I never knew how to tell myself 'no'. Thanks to my parents I was always pretty good with using my credit card responsibly, but I was often purchasing things I had no business buying. I never paid very much attention to saving money, rather the minute I had enough to make a large purchase, or any purchase for that matter, I did. After completing a summer internship in college I waltzed right into Louis Vuitton and picked up a Neverfull GM. I barely made much more than minimum wage, which I think was around $7.50 at the time, so you can imagine the hours it took to make enough to buy the bag, and you can probably guess that I didn't have very much left over! The smart thing to do would have been to to save a large chunk of that money, but alas here I am 8 years later and I still use that Neverfull when I travel.
Though as I got older I became a much smarter shopper, my irresponsible spending as a youth definitely impacted me when I got older. It took me much longer to be able to fully depend on myself than I care to admit, which is why I'm not shy about sharing my mistakes. Because of all that I've learned I tend to feel guilty sometimes when I buy things, even when I can afford them! This isn't always the case, but it does happen. More often than not it's my conscience that stops me from making the purchase all together if I'm not 100% sure, because I don't want to deal with that sinking feeling that the purchase was not well thought out and reckless.
Lately I've been doing a lot of thinking about my next bag buy and I want to be really smart about it. I typically get the opportunity to make one or two big bag buys a year, and I've yet to snag anything for 2019. This is partially because I'm super indecisive, but also partially because I haven't felt financially ready just yet. I'm getting there, which means that I want to start toying with the idea of what I want. This way, once I'm ready to make the purchase I know it's been well thought out and calculated.
In a perfect world I would be able to buy everything that I like or love, but let's be honest—that's not reality. It's hard for me to make up my mind because there are so many choices, but also because I see so much day to day. Doing what I do for a living means that I also know there's always going to be something I want. It's the nature of what I do, but also of being a handbag lover. Currently I've got my eye on two very different choices.
The Celine Nano Luggage Tote
My last big bag buy was my Saint Laurent Nano Sac de Jour, which I love and am so happy with! However, when I purchased that bag I almost let a sales associate at Neiman Marcus convince me that a Celine Nano Luggage Tote was a better option. It's similar in size, structure and function to the Sac de Jour, which I ultimately went with, but I still think that I would love to add a Celine Nano Luggage Tote to my collection. I love the burgundy color, but I would also consider it in beige or blue. I get that it's very similar to a bag I already have, but a part of me can't get this bag out of my mind, even all these months later.
The Chanel Camera Case
Wildly different than the Celine Luggage tote is the Chanel Camera Bag. I've been thinking about a Chanel Camera Bag for a while now, and while the Celine seems like a great choice because it's a size and type of bag I already own and love, a camera bag might make more sense because it's a shape that my collection lacks. I know I'd use and love a camera bag because I've borrowed my friend's Gucci Camera Bag before, and it's incredibly functional and easy to wear. Then there's the fact that I don't own anything Chanel yet, so it would be my first (full disclosure though, I don't own a Celine bag either!), which is sort of tempting in and of itself. Truth be told I would probably consult the secondary market to make this purchase if it comes down to it.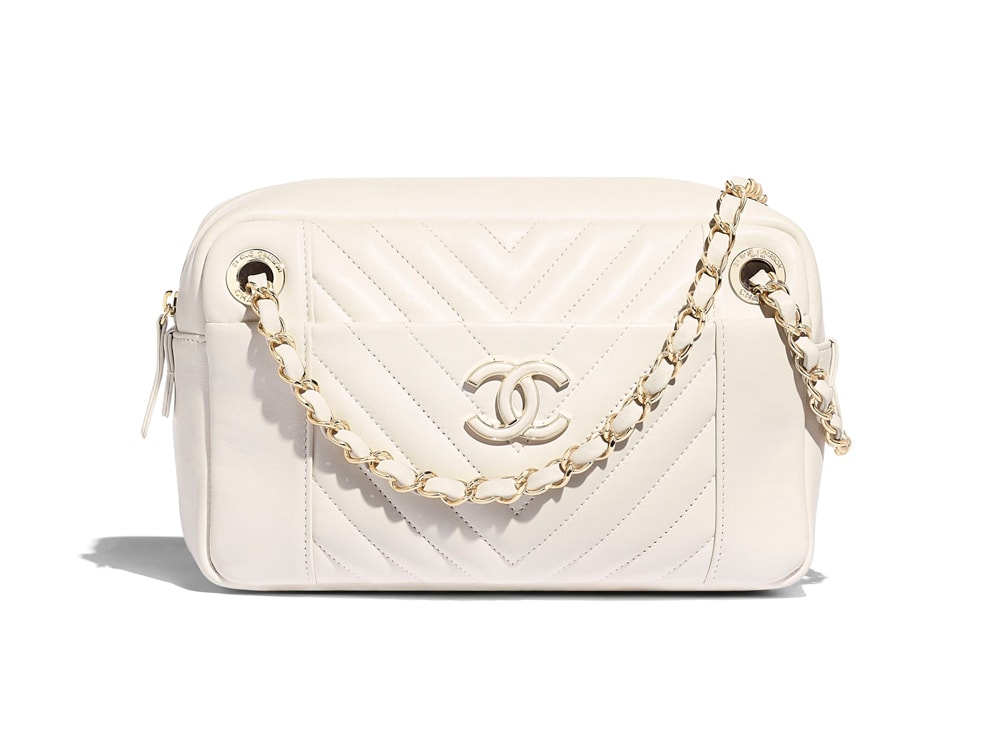 I've got a couple of months or so before I'll be ready to pull the trigger, but my pro/con list and my obsessive thoughts have commenced. Which would you buy?
P.S. Please consider supporting our small, bag-loving team by clicking our links before shopping or checking out at your favorite online retailers like Amazon, Neiman Marcus, Nordstrom, or any of the listed partners on our shop page. We truly appreciate your support!