There's something to be said about a very small and practical bag. At least, that's what I thought before purchasing the Chanel Clutch with a Chain. To be honest, I'm not even sure if I should classify it as a bag. Maybe "small leather good" (SLG) is a more accurate description? I'll let you decide.
Anyway, I *can* confidently speak about my experience, and let's just say it's not exactly what I expected – in both great and somewhat disappointing ways. Here's why.
Aesthetics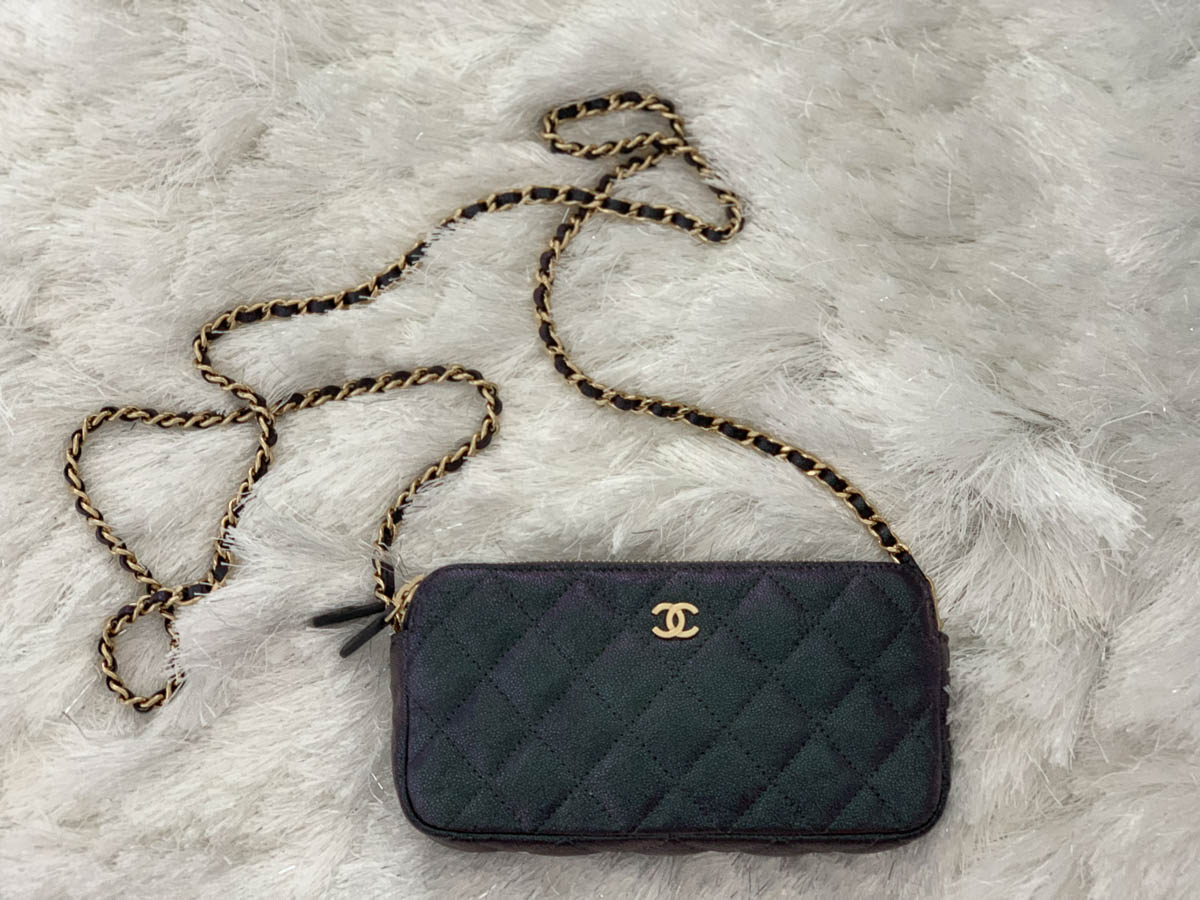 At first glance, this particular clutch is clearly eye-catching. The reason is obvious: Instead of traditional black caviar leather, this one is crafted with iridescent black diamond-quilted caviar leather – which is a fancy way of saying it features a slight purple tint and silver shimmer, especially when in direct light. To me, that automatically differentiates this clutch from others. Though the clutch-like style is as traditional as it gets, the shiny leather adds a little something extra.
Be it for a quick errand or an evening out, this clutch can hold its own – and I definitely think the iridescent has something to do with it. Beyond the leather, everything about this piece is what you'd expect from Chanel. It includes a silver leather threaded chain link crossbody strap, as well as the iconic CC logo at the front.
While it may not always be the most functional (I'll get to that later), I always feel stylish when I wear it. I also appreciate that while the leather is a show-stopper, the bag itself is quite subtle. Its small size and shape aren't too flashy or in-your-face, making this a great companion for pretty much any daytime or evening activity. Featuring the class of any Chanel leather good, the bag can be easily dressed up or dressed down, making it one of the most versatile pieces in my collection.
Usability + Functionality
Let's get into the facts first: The bag features two separate top zippers that open to a black fabric interior with card slots. In-between those two zipper compartments, the center is open and meant for packing away the chain when not in use. Both the two zipper interiors and center pocket are large enough to fit an iPhone XS. For those with the larger iPhone, I fear the zippered pockets may be a tad too small, but I would advise trying it for yourself in store before purchasing (if you're considering this clutch).
Because the clutch isn't all that wide, the amount of "stuff" one is able to fit inside is limited – very limited. I knew that going in, but I didn't fully grasp the concept until I started to use it on a daily basis. Credit cards, cash, and even a spare lipstick prove to be no problem. My phone can even fit too! But anything beyond that, including a pair of thin sunglasses or my car keys, must be left behind or held in my hands.
It's worth noting I purchased this clutch in the first place because I found myself growing tired of carrying around my larger (and more practical) bags. I convinced myself that I didn't need to drag around so much stuff, especially during a quick trip to the supermarket or on date night to an intimate restaurant. Wow, was I wrong. There's something to be said about the safety and comfort a bag provides. No matter where I am, I know I'm fully prepared for just about any situation by having anything and everything I may need, such as sunscreen, a spare water bottle, tissues, or even a protein bar. The same cannot be said with this clutch.
The thing is, I can't fault the clutch for its lack of usability or functionality. All clutches are pretty much the same in the sense that they don't hold much. With that being said, this clutch is probably as functional as it gets, which is why I'm awarding it three stars. For a perfect rating, I would do without the center, un-zipped pocket. It's sort of a waste of space, which leads me to believe Chanel's Wallet on a Chain would have been a better choice. On the flip side, I always prefer zippers over snap closures (which is why I defaulted to the clutch over the Wallet on a Chain in the first place). Moral of the story: No bag is perfect, and surely every bag has its pros and cons. As a wallet, this clutch would receive five stars though; but as a bag, I'd put it somewhere between two or three.
Quality + Construction
This one's easy. The quality and construction of this clutch is on par with what you would expect from Chanel. I know there has been much discussion regarding Chanel's quality (or lack thereof) in the last few years, especially as prices have increased. I haven't personally experienced the decline, though I do believe those on tPF who have reported it.
What I can say is I've thrown this bag around and used it in a myriad of situations, and it still looks pretty new (as evidenced by the photos). For the price, however, I would have liked to see stronger zippers for the two pockets. They seem a little cheaply made, which is why I'm deducting a star.
Quality + Construction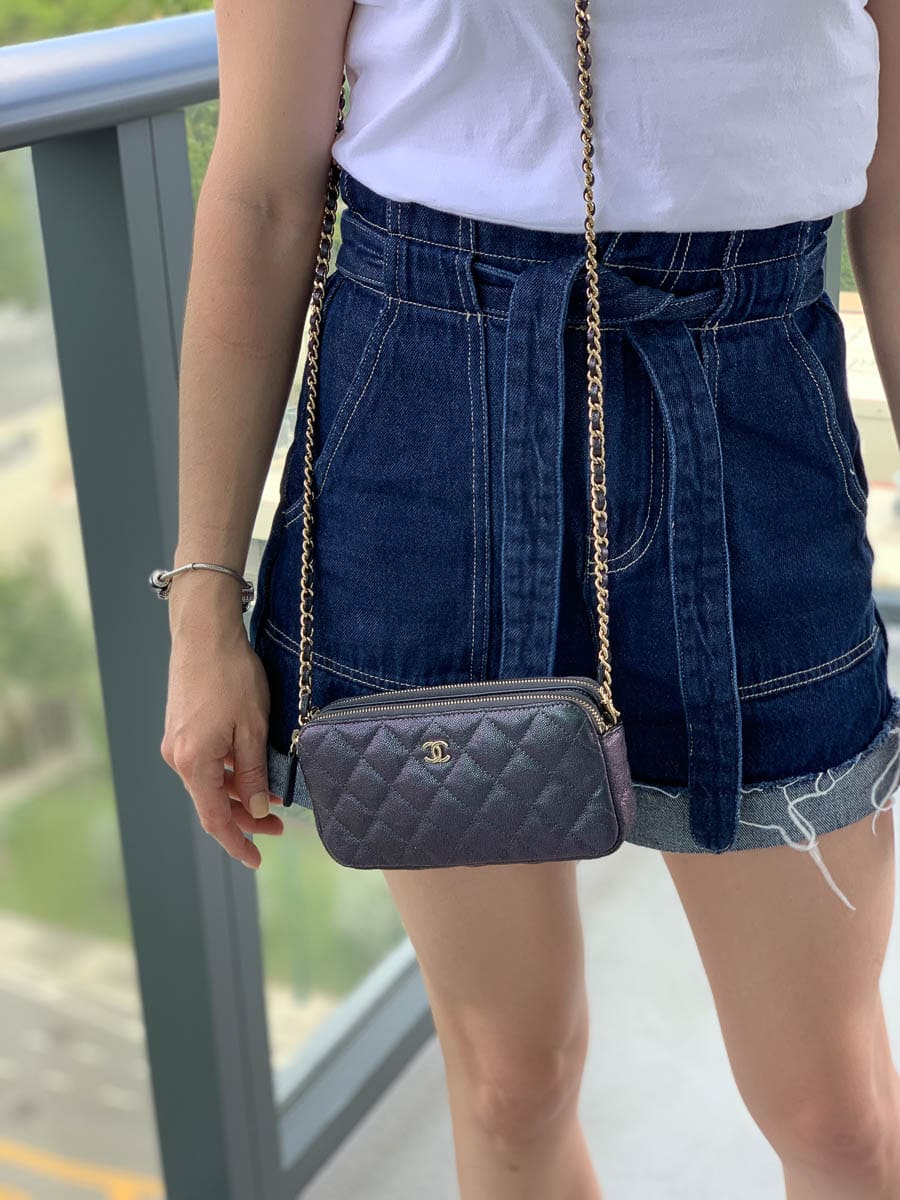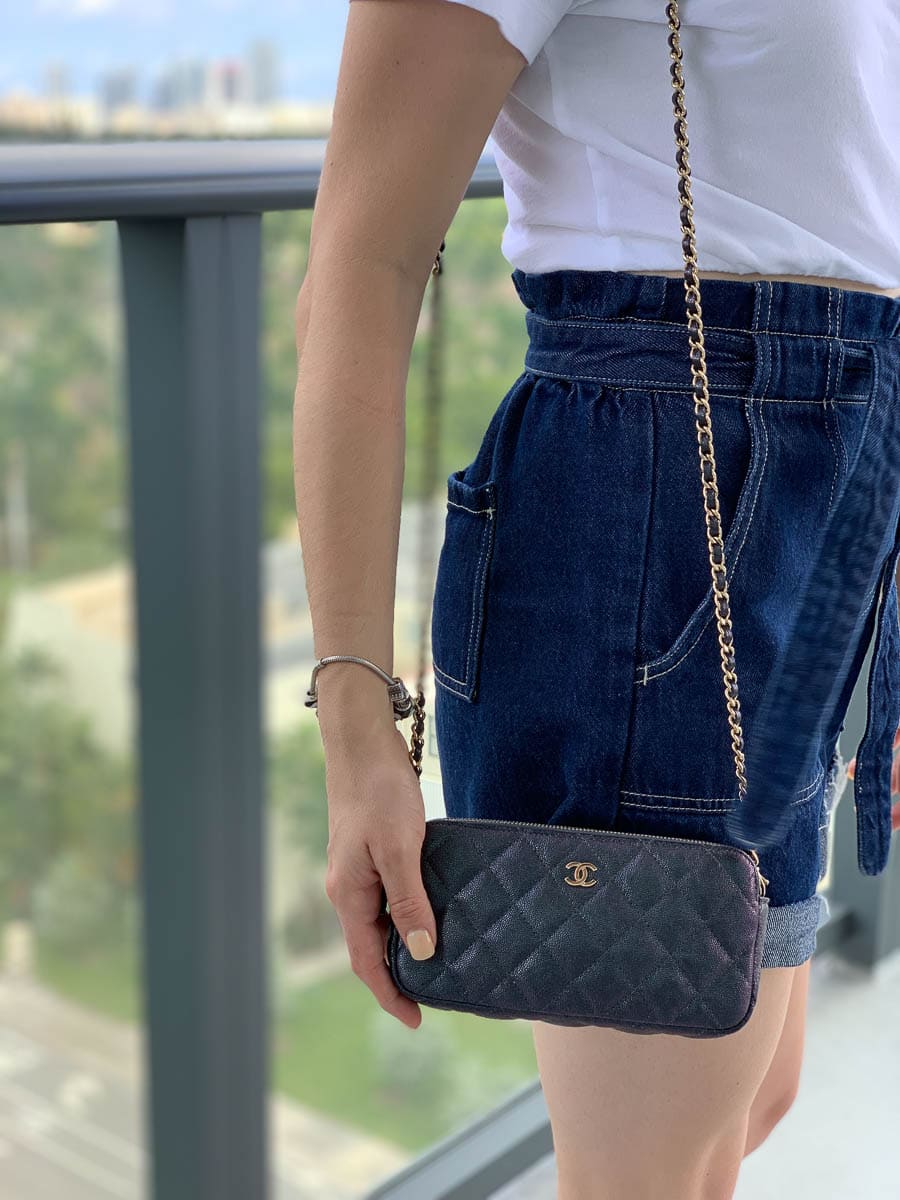 I paid a pretty penny for this clutch. Ringing in at $1,900, I know it's overpriced. That's Chanel for you! But let's remember: This clutch has two clear functions: It can act as an independent small bag or as a wallet for your favorite, larger bag. The leather chain is removable, which means you basically get a very (very!) small bag and a wallet – all for one price.
Remember, you're also paying for the allure of Chanel. Regardless of your personal opinions regarding the designer – and whether or not you believe it to be worth it to "give in" – that's just the reality of purchasing Chanel.
Staying Power
While I know some will disagree, I don't see Chanel going anywhere anytime soon. Prices continue to rise, and I think that is a testament to the power the brand has over consumers.
No matter the season, this clutch (and others like it) are always available. And though most bags aren't investments, the classic look of it, coupled with the edginess of the iridescent, leads me to believe it'll stay in style for a long time. I also believe I would be able to get a solid amount back for it, if I decided to consign it, given the shape and style has been around for years.
Overall Rating
Let's just say, I'm content with this purchase – not over the moon, but not let down either. Though I wish it was just *slightly* larger to fit some of my other essentials (keys, sunglasses), a clutch is a clutch… and clutches are typically small.
I am very pleased with the iridescent leather though. It's classy and funky all at the same time, automatically elevating an outfit. I would definitely be inclined to purchase a second iridescent in the future. I also appreciate that I can easily remove the straps and throw this clutch into one of my other bags.
I think there's something to be said about having at least one clutch with a chain in your arsenal – be it from Chanel or another designer. It's helpful to have a wallet that also acts as a small evening bag or errand companion. It's a timesaver when you don't want to fully switch out your bag. All I would say is, don't mistake a clutch for an actual handbag. If anything, a clutch is closer to a wallet, and though wallets are necessary, they'll never replace your desire for a new handbag.