Towards the end of August, I asked you all what bags (if any) you had snagged this summer while traveling abroad. I was preparing to head out for one last summer trip before the hustle and bustle of fall and *gasp* the holidays began, and today I am here to share with you what I snagged while visiting Portugal early last month. Yes, I'm talking about my new Loewe Puzzle Hobo in Mandarin.
Aesthetics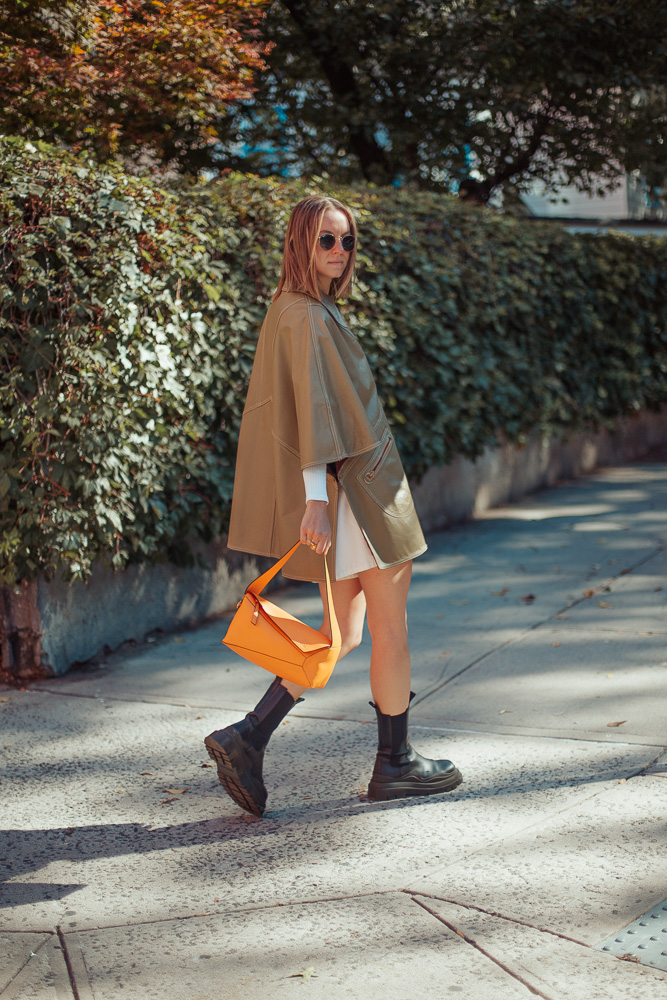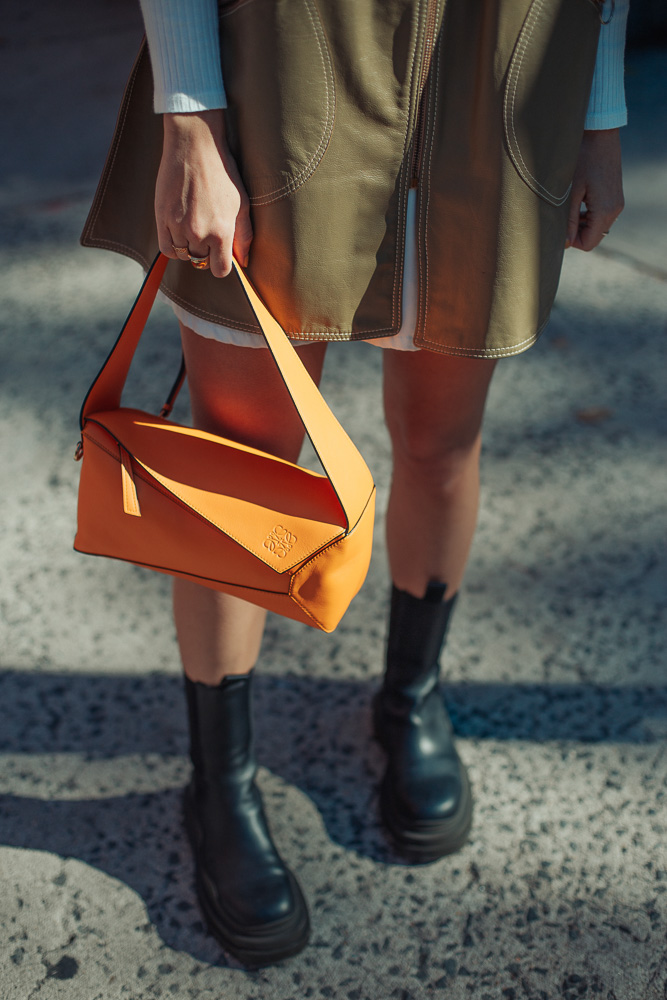 I've had my eye on the Puzzle bag for quite a number of years now, but other bags continued to bump ahead on my list. Then, Loewe released a new version of the iconic Puzzle bag last fall, and I knew that eventually, one would be mine. Designed by Jonathan Anderson as part of his first collection for Loewe, the Puzzle bag offers a shape that is incredibly unique and eye-catching. Equal parts sleek and chic, it's a silhouette that's hard to miss and hard not to love.
Few bags offer a shape as distinct as the Puzzle bag, but at the same time, it remains more under-the-radar than other bags of its caliber, filling that need in your closet for a bag coveted only by those in the know. It was a bag I kept returning to time and time again, but ultimately it was the laid-back, soft, easy silhouette of the new Loewe Puzzle Hobo that sold me. It was love at first sight, and when I saw the bag in person again at the Loewe Boutique in Lisbon, I knew it was the one I would go home with that day.
Choosing a color was the hard part. First, I walked past the row of neutral Puzzle Hobos on display because I knew I wanted color. I inquired with a sales associate, who was pleasant, patient, and kind. He pulled out a bright sunny yellow, and I thought to myself, "now we are talking." I toyed with the yellow a bit while my SA did his thing when suddenly, with one swift movement, the Puzzle Hobo in Mandarin appeared, and my heart skipped a beat. My friends oohed and ahhed along with me, and instantly I was sold.
I wore the bag out during my trip, and I've also used it a handful of times back in New York. The look of it keeps getting better and better, and it's one of few bags that I think deserves a five-star appearance rating, but I did knock off a half-star because it doesn't always sit as beautifully as it should, depending on what's in it.
Usability + Functionality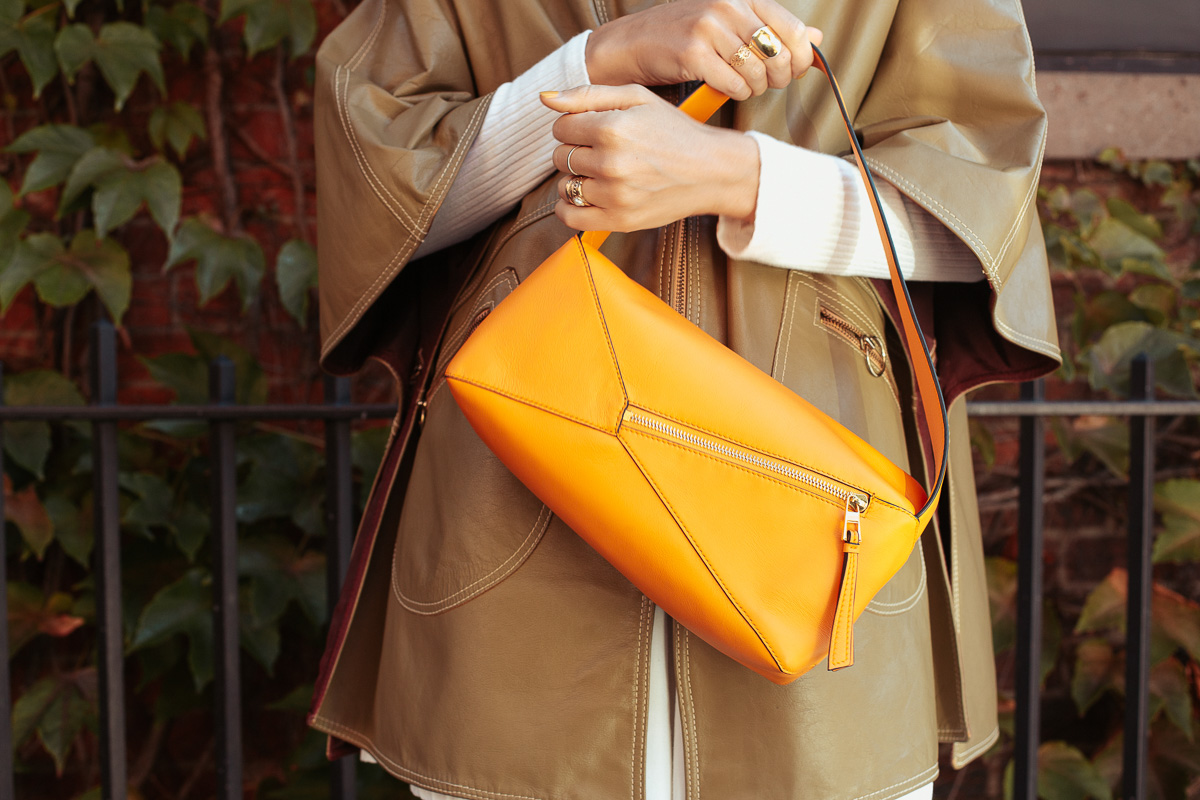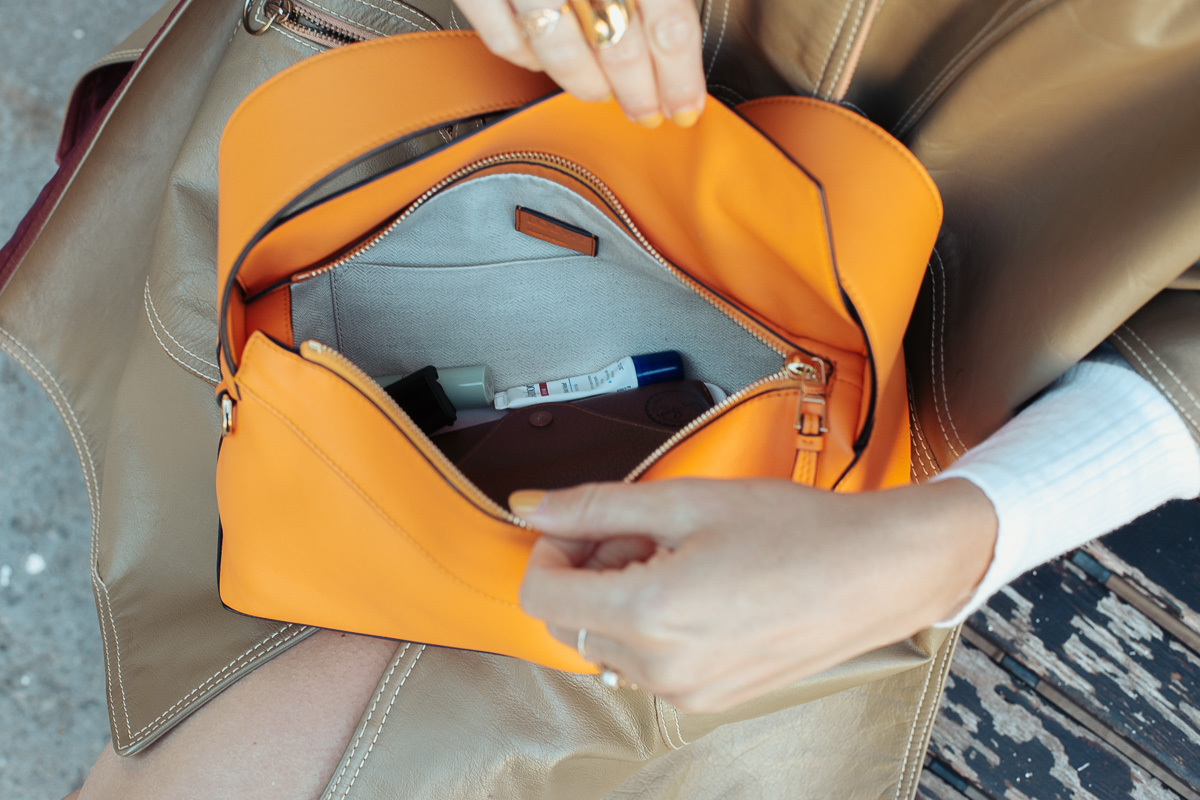 Where this bag excels in aesthetics, it lacks in functionality, but you really can't expect a shoulder bag of this kind to be the easiest bag to wear. Most of my bags are worn crossbody or at least have a longer strap. For the most part, I don't own many shoulder bags, and I'm not used to wearing them, so using this bag takes some getting used to. This bag is meant to be worn over the shoulder, and particularly I noticed that this bag can feel cumbersome when you aren't able to do so.
I was wearing a leather cape when photographing this review and couldn't put the bag over my shoulder, so I was juggling it a bit, transitioning between wearing the bag in the crook of my arm or hand-holding it. Most other times I've used it, I have been able to wear it over my shoulder, and it does sit quite nicely, though it is difficult to get in and out of on the go. The back zip pocket is perfect for anything you want to grab quickly (for me, that's a MetroCard or a debit card), and inside there is a slit pocket.
The interior is lined in a light-colored cotton-canvas material, making it very easy to see and organize your belongings. At 5.5″ L x 11.3″ W x 4.2″ D, this bag is fairly big compared to other bags I own, so I find it very spacious, but most would consider it mid-size. There is plenty of room for your iPhone, sunglass case, a small cosmetic pouch, a continental wallet, a snack, and even a notebook or a small novel (I often carry books with me!).
Quality + Construction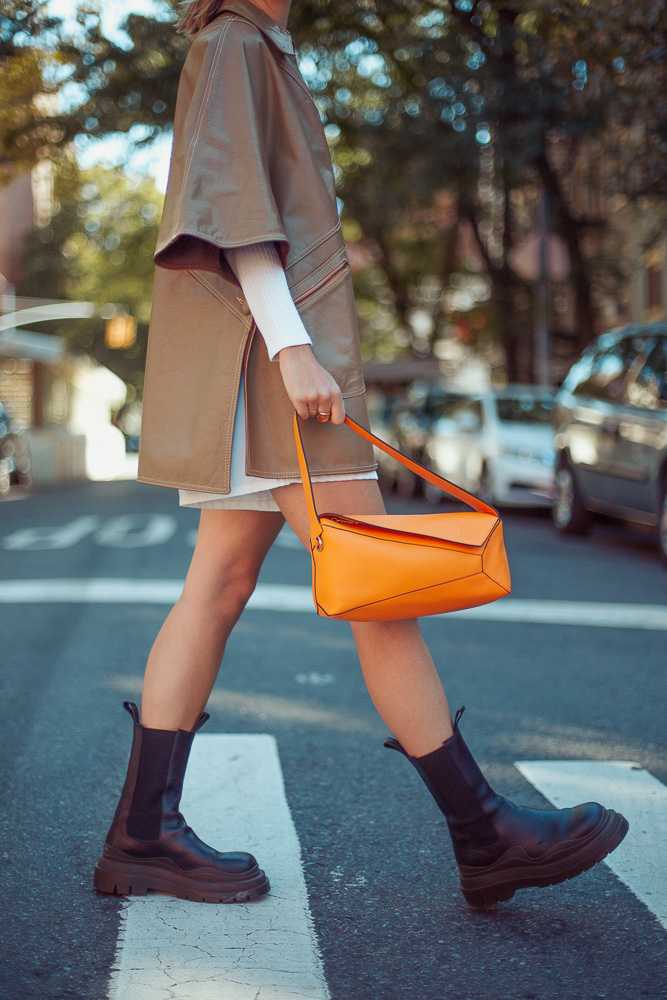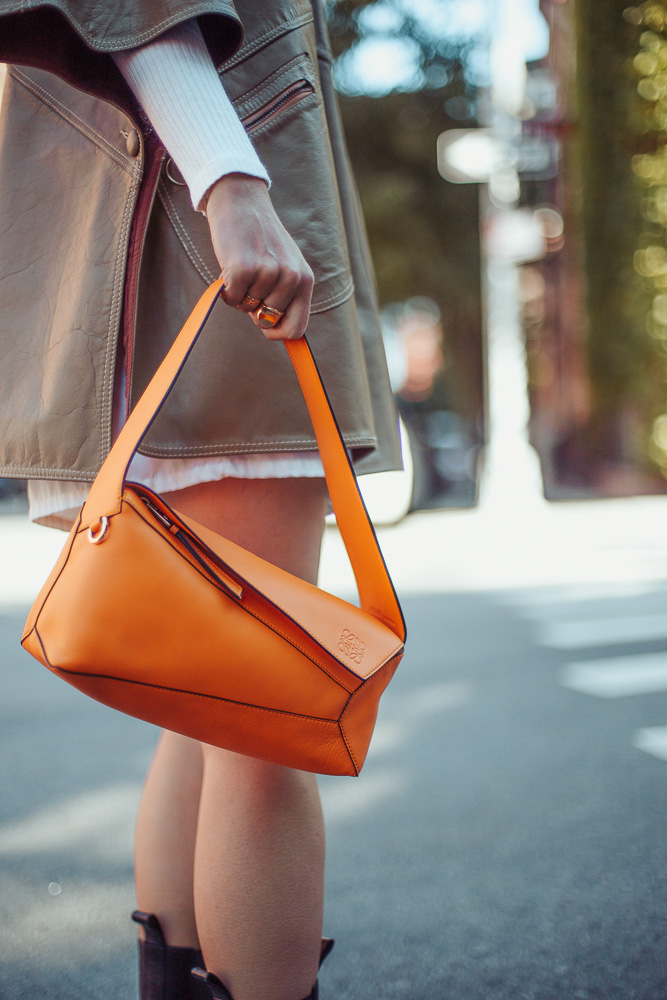 Few brands boast the same meticulous attention to detail and artisanal craftsmanship as Loewe. This heritage and commitment to the brand's roots remain in each bag's quality. Owning a Loewe bag is like owning a piece of the brand's history, and now that I've finally added one of the brand's bags to my collection, this is evermore apparent. Jonathan Anderson has preserved the Loewe craft and art of leather-making, striking a unique balance of modernity and heritage. The Puzzle Hobo Bag encompasses all of the aforementioned, not only in its materials but also in its incredible details.
Crafted from Nappa calfskin leather, the Puzzle bag's cuboid shape requires a precise cutting technique to create the silhouette's distinctive geometric lines, and the bag is stunning at first and second glance. The leather quality is really unmatched, and few other bags have truly wowed me in the quality department alone. I did not knock off half a star as parts of the bag show the leather grain more than others. This is not a flaw per se, more a personal preference.
Price + Value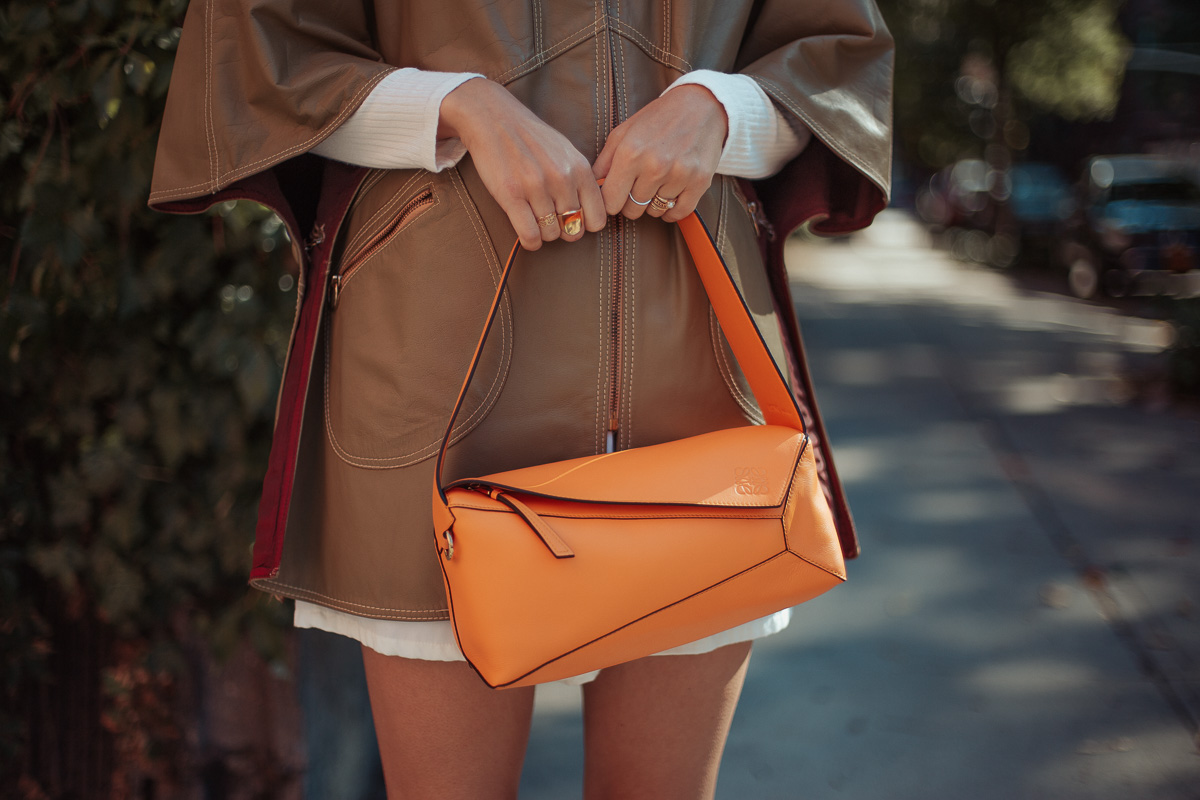 Because I purchased this bag in Portugal, I have to give it a 5-star rating regarding price + value. Shopping in Europe is indeed advantageous right now for American consumers, so if you're traveling abroad, plan ahead and budget accordingly! Currently, the Loewe Puzzle Hobo retails for $2,350 in the US; in Europe, it's priced at 1,850 EUR.
Today, the conversation rate is .98 USD to every 1 EUR, which means that VAT tax aside, you're already saving $500, give or take, depending on the day. Taking into account the VAT tax, which in Portugal is 23% on most goods (but an admin fee is taken from your refund), the deal is really sweet. Personally, I found the refund system straightforward in Portugal, but it varies by country. LOEWE gave me the forms I needed to present at the airport for verification. I had selected to receive the money back to my credit card, which was in my account, within 5 days of returning home. I only wish I had budgeted to buy more!
Staying Power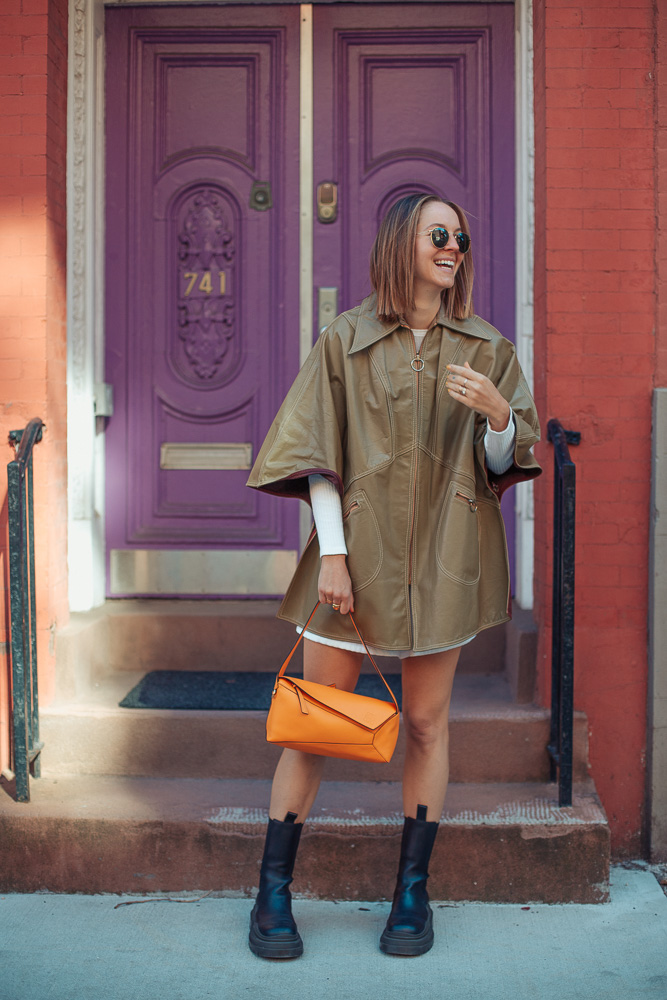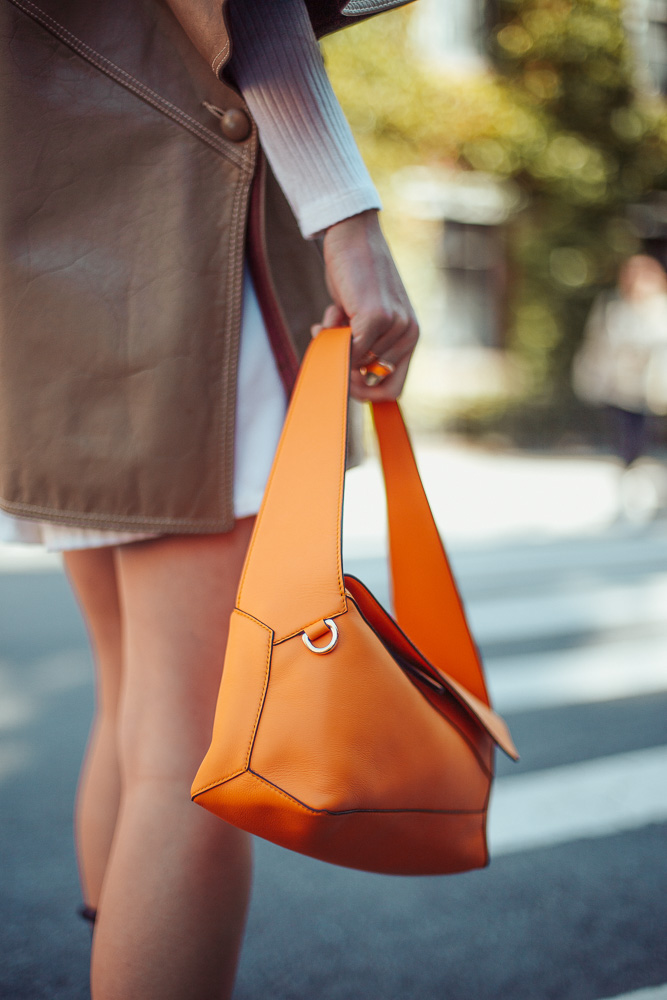 The Puzzle Bag made its debut 8 years ago, quickly becoming one of Loewe's cornerstone designs. Few bags can do what the Puzzle Bag has done; withstand the test of time and be versatile enough to somehow be considered classic/timeless and trendy at the same time. For handbag lovers and industry insiders alike, the Puzzle has become a go-to that is somehow under-the-radar and ubiquitous simultaneously. Revived and refreshed seasonally in new sizes, colors, and now, shapes too, it will likely remain a mainstay for years to come.
Overall Rating
If you're considering a Loewe Puzzle Bag, this is your sign to do it. Overall the bag truly delights, and I've already found it to be fairly easy to style and wear, no matter if I'm dressed up or down. It is a truly unique piece that is eye-catching in style and quality. Whether you know handbags or not, it wows.