We have nearly breezed through spring, PurseForum Roundup fans, and are barreling headlong into summer. This week included a holiday of remembrance that also brought with it lots of shopping. We hope you did the former, and we know many of you did the latter. This week, we found lots of reveals throughout the PurseForum, including some gloriously luxe watches, shoes and, of course, bags.
---
This week, we started in The Jewelry Box. Since we love presents, whenever a thread looks like a gift reveal, we are in! Recent graduate peppiness76 was thrilled with her family's gift of a classic Cartier Tank Solo, a perfect graduation gift that will last a lifetime. Congratulations on your graduation, peppiness76! It seemed like classic watches were on everyone's mind, because the very educational Rolex Daytona thread was ticking along at a fast clip. Jetsetmax shared this sleek steel model, and other connoisseurs have been contributing myriad stunning photos of this timeless timepiece. Whether you are a spectator or a participant, the sport of stacking watches and bracelets is always ongoing in the Jewelry Box and proves that no matter which watch you sport, you can tell time with style!
---
The Christian Louboutin subforum is always busy. Always. This week was, of course, no exception. We thought it would be fun to share some of the week's reveals, so first up, mrscurvy's adorable Melisa 85's in leopard pony. Member D3183 selected a lower heel for her first pair of CLs, and it seems like a perfect match. Somehow we missed Fumi's eye-popping blue sapphire Lady Peeptoes earlier this year, and if you did too, here you go. We must also tip our hat to member Chanieish, whose multi-shoe reveal is the stuff of legend. She stole our hearts with her story and with the python and leather My Sandys, above. If the shoe fits, right?
---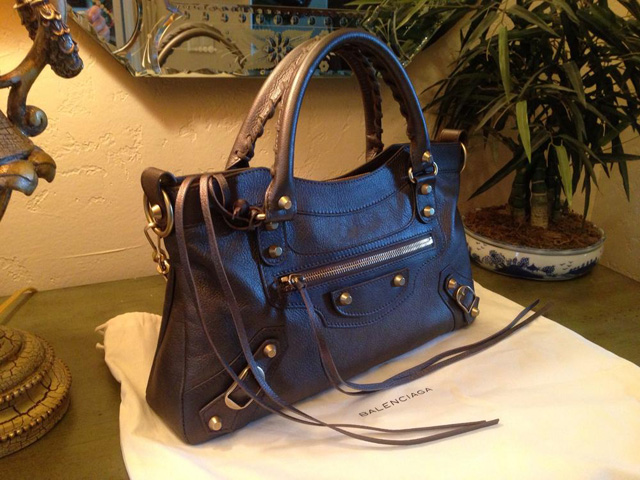 It's not often we want to reach into our monitors and grab a bag right out of someone's living room. (Okay, thats not true, it's actually quite often.) Fortunately, that type of pilfery is still impossible, or 4purse's beautiful bronze Balenciaga Golden Pearly First would be ours. Roundup readers know we frequently feature Balenciaga, and it's because this popular brand has such dedicated collectors, like Livia1, who kindly gave us a peek a the color swatches for the upcoming season. (We are thinking Rouge Cardinal looks promising.) Other active informational threads fill the Reference library, including tools for color, care and maintenance and style.
If you are still trying to decide on a Bal bag, you are not alone: Petuniaperiwink is deciding between a City or Town, lovemisa143 has coinpurses on her mind, zahzah is considering color choices, MyLVAddicts has a tough decision to make between two black Works and serenityneow asks some hard questions about color and hardware through the years. Have you learned all you need to know about your favorite brand?
---
Spending some time in the Body-Mind-Wellness subforum this week really made us appreciate the richness of the PurseForum community and the kindness of its members. We don't often feature these areas in the Roundup, but this week, we spent some time in Pregnancy and Parenting. This is the place for seasoned moms and mothers-to-be to strategize and share advice, shopping tips, joys and even a few sorrows. Hot topics this week included a serious haircutting overstep and some sweet updates in last spring's expectant mommies thread. Relationships and Family, a members-only forum, is a place for sharing the trials and tribulations of navigating relationships of all sorts. We cover it ALL here, including new relationships, cheating, and one of our favorites: what to do if you find the engagement ring and he doesn't pop the question. Also, why the kitty? Hope on the online dating bus to find out!
We hope when you are challenged by a boyfriend, in-law, childhood friend or even a health issue, you will remember that our wonderful members are ready and willing to help you through it. We love that!
---
It was a heavy reveal week in Mulberry this week. MrsLedger showed off some beautiful heart-bedecked small leather goods and kiren123 surprised everybody with a double reveal. We love this very sweet Lily from sffoodie, who also needs help with some crinkled leather! You mustn't miss this elegant wallet with chain from blinkie80 or this beautiful bag that made an appearance when Onebagtoomany tumbled off the ban-wagon!
Also this month in Mulberry, the Wonderful Willow Club was launched. We toast its members with this beautiful shot from chloe-babe, who is a very enthusiastic member of the group and a fabulous photographer as well! Don't miss Esmerelda's gorgeous Willows on page 3 and leopard's new Bayswater in classic navy. With so many beautiful bags in Mulberry this week, we hope you enjoy them as much as we did.
Well, that brings another month and another Roundup to a close. We thank you so very much for continuing to join us each week. We know we have some regular readers now and are very happy to be able to bring you interesting conversations and beautiful bags and photographs. Savor the last bit of May – see you in June!
P.S. Please consider supporting our small, bag-loving team by clicking our links before shopping or checking out at your favorite online retailers like Amazon, Neiman Marcus, Nordstrom, or any of the listed partners on our shop page. We truly appreciate your support!