We are about to hit the midway mark of September, PurseForum Roundup readers, and we hope you had an enjoyable month so far. Thank you for stopping by as we make our way around the PurseForum, highlighting conversations we hope will interest you. This week, we visit Balenciaga, The Glass Slipper, Prada and more. Thank's for joining us!
---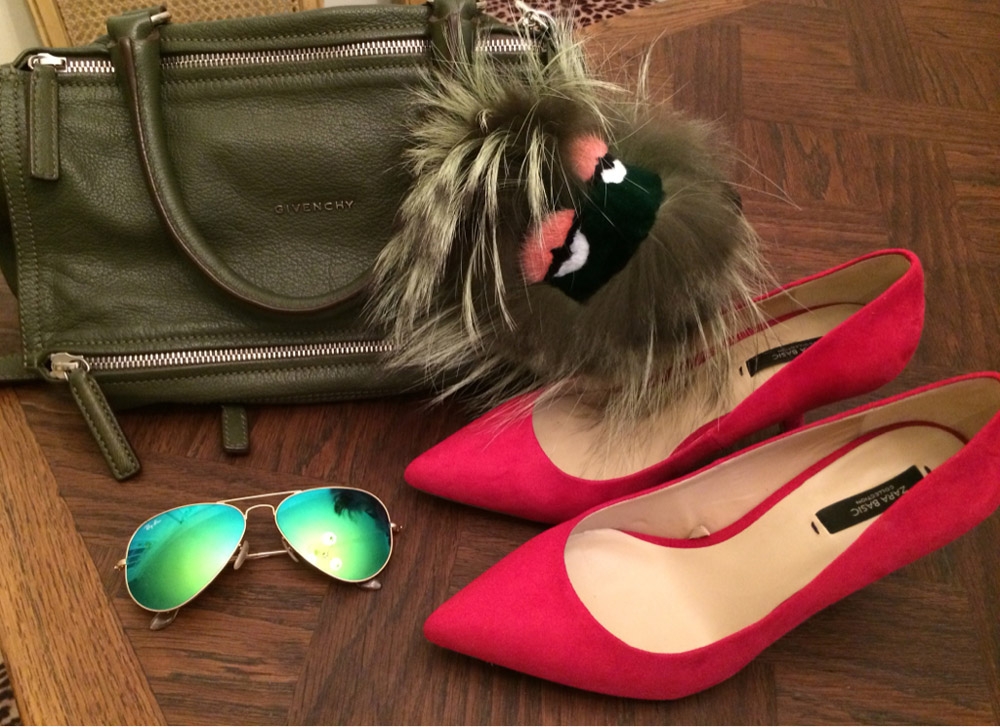 Our Glass Slipper subforum is the home of everything shoe-related (or, more precisely, everything shoe-related that is not Christian Louboutin, which has its own dedicated subforum). This week we visited the What a PAIR thread, a place for our members to show off their favorite shoe and bag matchups. Authenticplease got creative with her olive Givenchy Pandora and pretty raspberry Zara pumps, rounding out the look off with fantastic Ray-Bans and a Fendi Bag Bug.
Also, be sure to catch arnott's pairing of cute Tory Burch sneakers with a Coach messenger bag. Elsewhere in the Glass Slipper this week, we caught up with the Aquazzura thread. We found that one lucky member has already selected a pair and reports that they are wonderful. Also be sure to check out the Best Boots for a Real Winter thread, because soon it'll be time to heed that advice!
---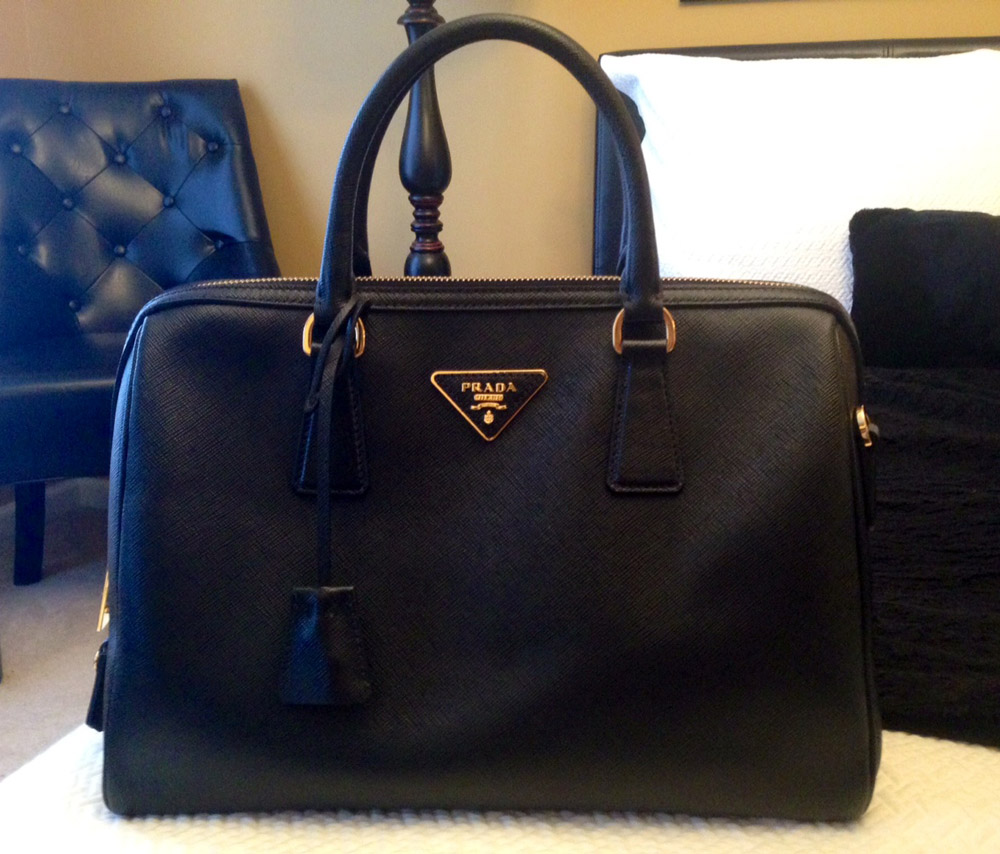 What a perfect Prada classic satchel for fall. Cvlshopaholic posted this saffiano Bowler and it's a great choice for a first Prada. Lately, this brand's subforum has been all about the totes, and we found this brilliant red saffiano tote in a quickie reveal from arviereyes. Don't forget, like all of our designer subforums, Prada has a wonderful reference library, which includes a thread dedicated to our members' modeling shots.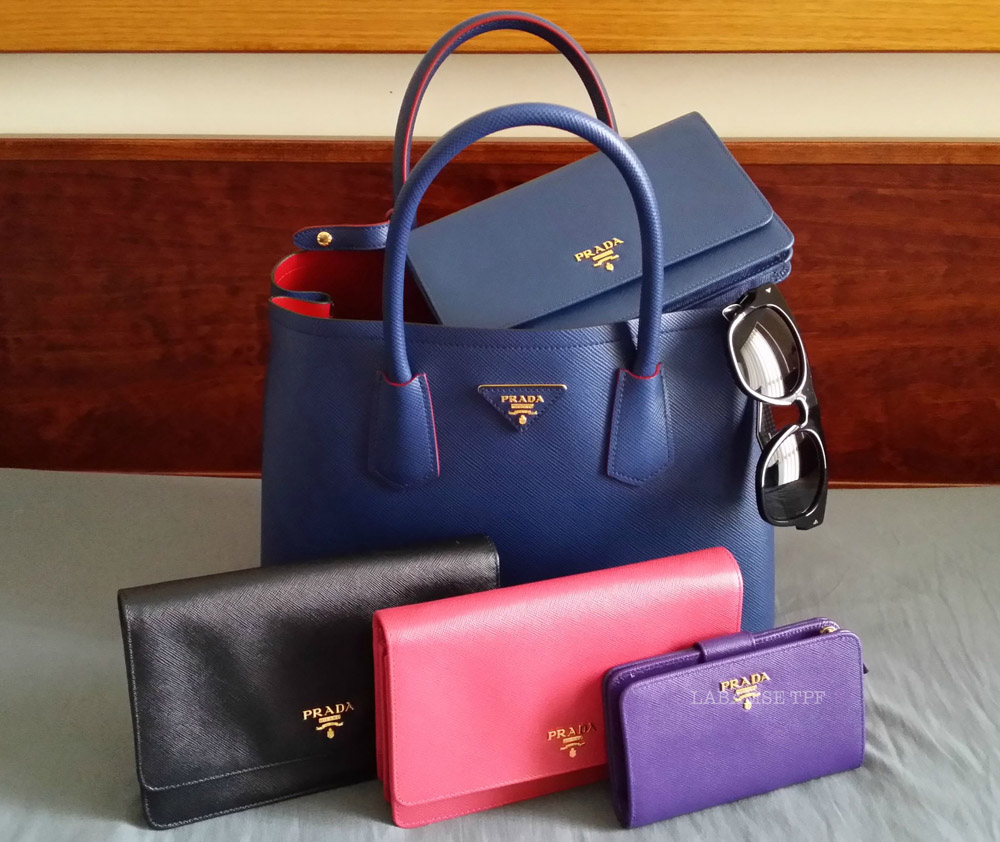 Prada also has a quiet but lovely collection thread, where we found this charming family photo from labamse. Very inspiring.
---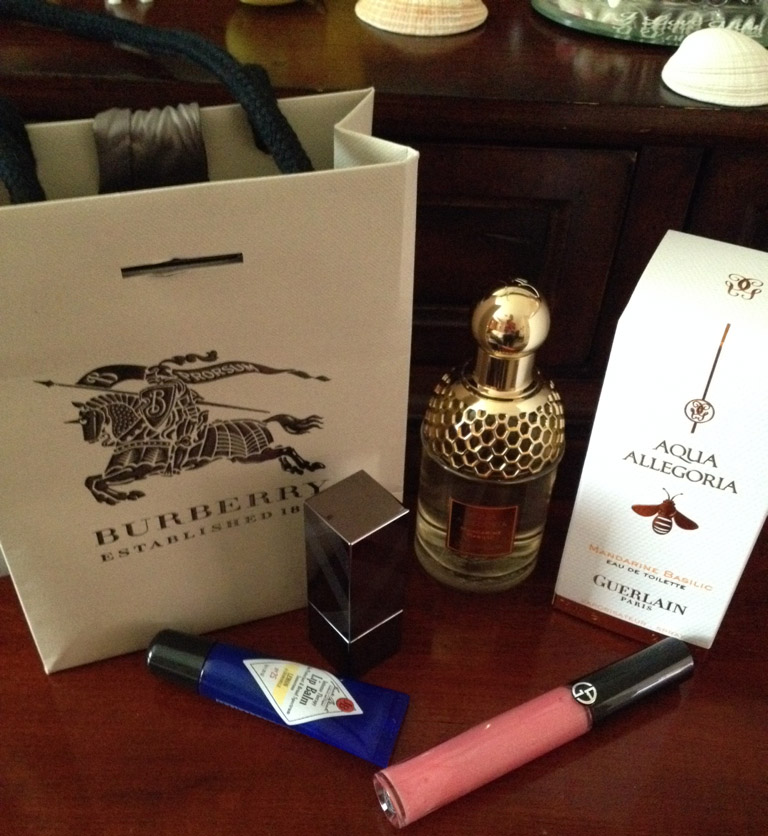 We all have our favorite threads and areas of interest on the PurseForum, and the Beauty Bar is undeniably one of the most popular. Maybe it's the myriad exchanges and Random Act of Kindness events, or maybe it's the simple fact that buying beauty products is good, clean fun.
This week we found some interesting selections in the Recent Purchases thread (which has been very busy this summer!), including this photogenic collection from Misstake7198. Also be sure to check out the Rants and Raves section of the Beauty Bar for a no-holds-barred look at some of the products vying for a piece of your beauty budget.
---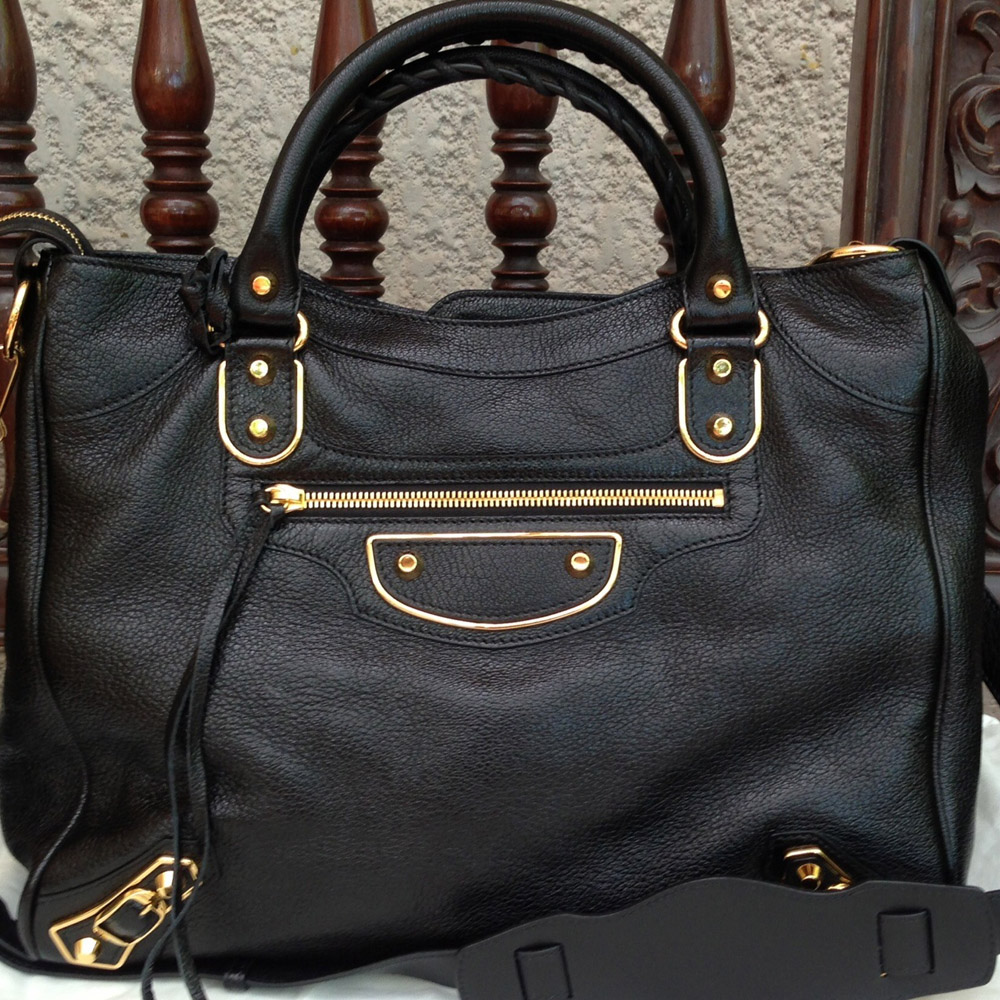 Balenciaga is another brand with a jam-packed Reference Library at the ready to help you with your bag purchases. Also in Balenciaga, the September-October Purchases thread looks to be in full swing, and we found this stunning metallic edge Velo from Prada123; we are sure this thread will be a busy one, so stop in often!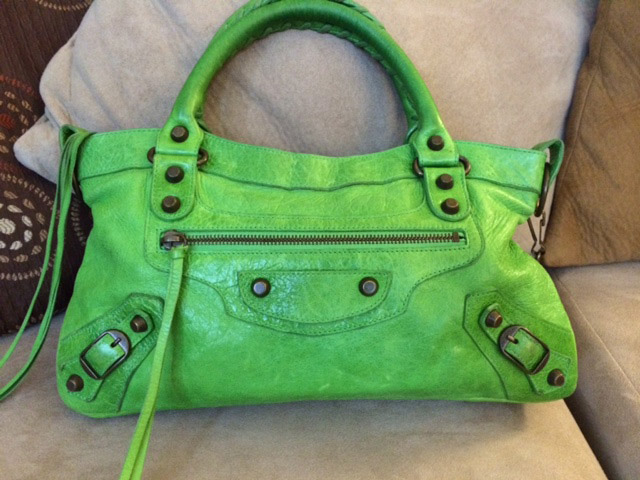 We also spotted this happy apple-green gem from Catash, a holy grail purchase that was quickly accompanied by this City bag in cumin; what can we say, the girl had a coupon! And two bags are better than one, right?
---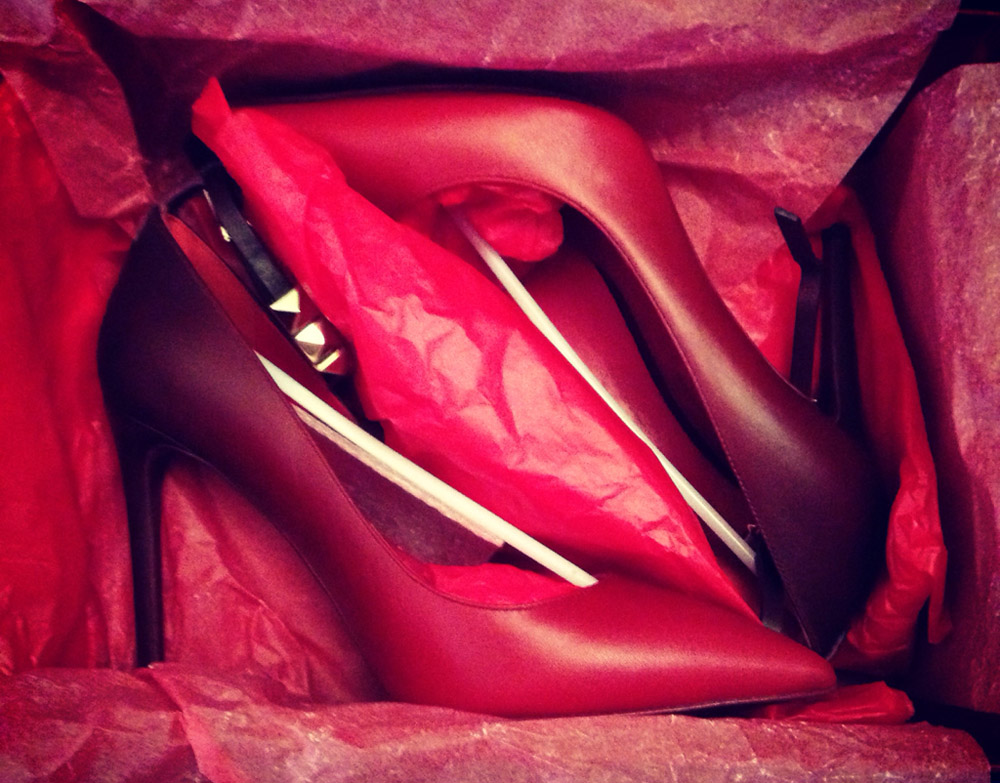 Our visit to the Glass Slipper had us feeling shoozy, so we stopped by Valentino, where we know we can always find some rocking Rockstuds. These incredible ombre beauties from ladyjeye have to be some of the prettiest shoes we have seen on the PurseForum, and you will be pleased to know there is an action shot as well! As we mentioned, we are all about totes these days, and this deep forest green version of the Rockstud really hit a home run. Congratulations to Phiomega for scoring such a winner – not bad for a first Valentino!
---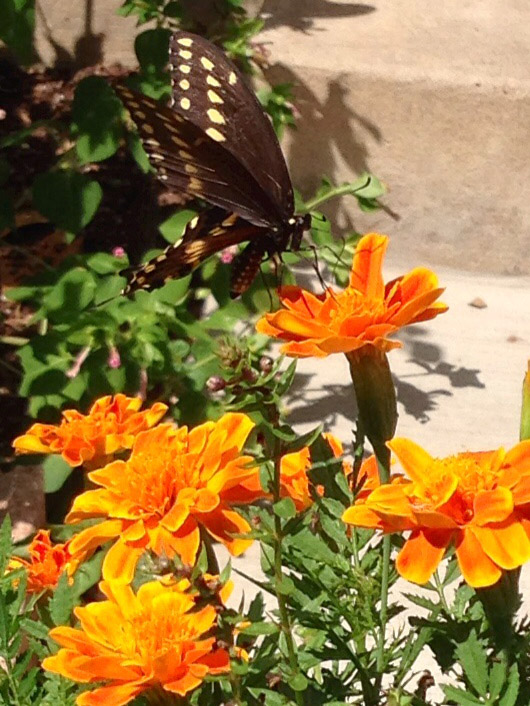 That's it for this week's edition of the PurseForum Roundup, friends. We could not resist closing this post with this sweet photograph of a butterfly visiting marigolds in Sweetpea83's colorful garden. This treasure is from the Random Picture thread in General Discussion, an interesting place to visit where anything goes!
Happy Weekend everyone! We hope it's wonderful, and that we'll see you right back here next week for another peek at the happenings on the PurseForum!