It's Friday, and that means another Fall edition of the PurseForum Roundup. If you are anything like us, you are getting busier as the days are getting shorter, but we always make time for fashion and a visit to the PurseForum. This week, we found an elegantly simple solution to a pesky little problem, helped some folks make decisions and fell hard for some purple bags in Balenciaga. We can't wait to share, so come on in!
---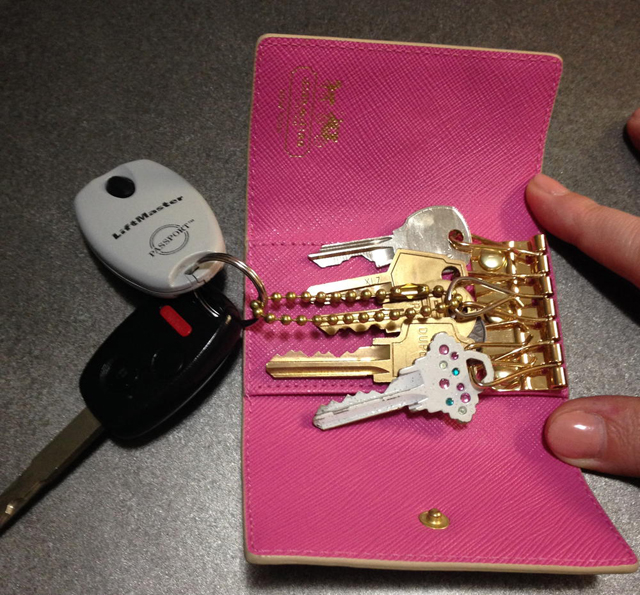 We love creative problem solving. This week in Coach, we were interested to see what the buzz was in the Coach Key Case – My Modification thread. The key-too-big-for-the-key-case is a pretty familiar problem for lots of us, and SheGetsWoundUp's solution had us wondering…why didn't we think of that?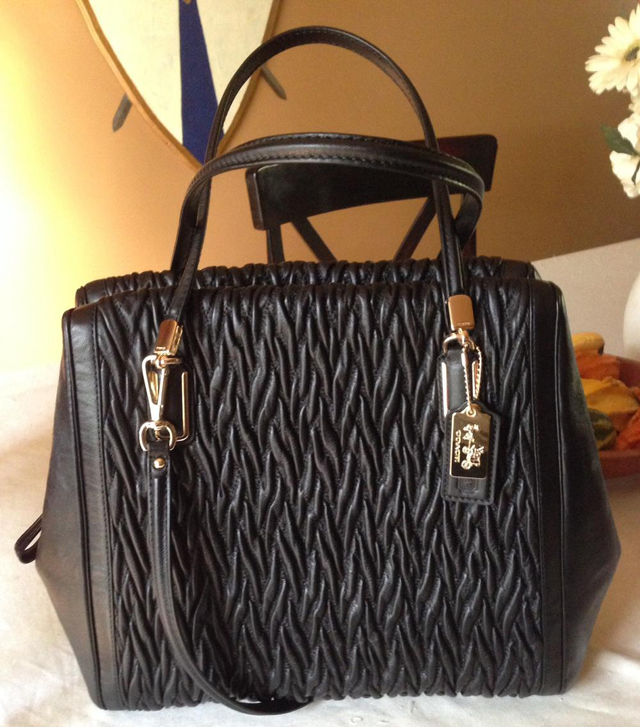 Also in Coach, CharliLuvsCoach shared the story of how she came to get her new quilted bag, and we enjoyed the read. Sometimes love takes a little time! Lovefrommich also took the long way around to find true love and tells us her story here. And, a bonus: Her true love has a matching wallet! Speaking of love, we all love bargains, and Nicacanadiaense really hit the jackpot this week! KCoach found a sweet little Willis that cleaned up as pretty as a picture! If you love reveals, don't miss arfmsu's new goodies, which include a magnificent tote and so much more. There's also lots of buzz in Coach about the new fall line and non-Coach purchases, so drop in Coach and join the party!
---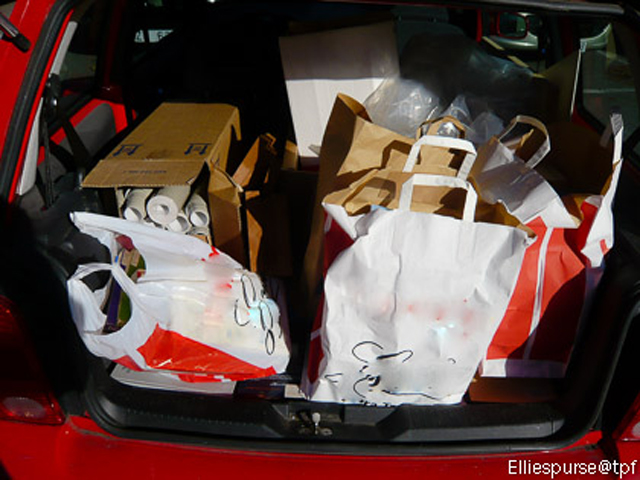 Ah, love. Purse love is a piece of cake compared with people love, isnt it? In our members-only Relationships and Family subforum, the holiday season seems to bring relationship issues into stark relief. We have a wedding reception dilemma, a social media snafu and a question about trust. Members are navigating the difficult holiday-planning-with-family maze, which is why this is such a busy time of year for this subforum. If you have an issue, there are kind, compassionate and helpful members always at the ready to hear your story and share their thoughts. Our non-fashion forums are such an important aspect of our community, in addition to what makes the PurseForum so special.
Speaking of which: keys that don't open anything, an earring missing its mate, the lifejacket you had when you were four – are you experiencing a clutter crisis? In Home and Garden, the 15 minutes to declutter thread is always on page one and always inspiring. Fifteen minutes is no time at all, and a quick declutter really does make a difference, so it's no wonder this conversation always tops the charts! While in Home and Garden, do drop in on Luckydogmom's progress on her charming home makeover. We introduced this thread back in September and love the progress and creativity we are seeing in her home.
---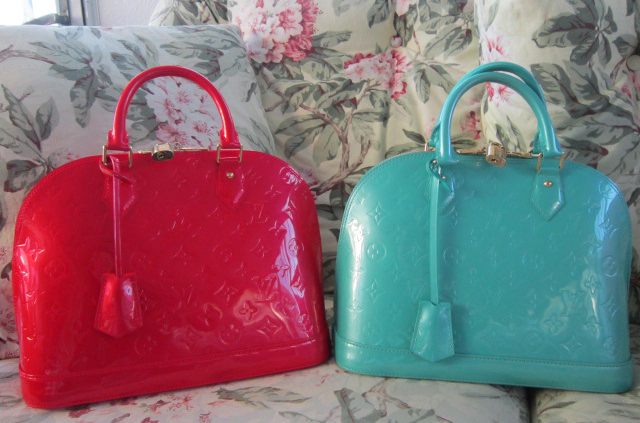 This week, Louis Vuitton was all about decisions. Mamakelly is pondering a Neverfull or Totally purchase, TooManyWantMore is wondering about a monogram color, msheidiann needs help with speedy sizing, AnaVeronika is looking for input on wallets and JeanaSmith is weighing her options on her second LV bag purchase.
Nestled among all the threads requiring our opinion, we also found a couple of great reveals, including this story of love lost and then found again from luv2run41. LawQT1908 hates to wait, and so didn't make us wait, either. She revealed her early anniversary present here, and treated us to a peek at her collection as a bonus! HeartMYMJs went to the boutique for a heat stamp and came back with a huge box – don't miss her reveal! This showstopping Kusama reveal from sedatedrainbow rounds out this selection, but you will undoubtedly find more when you visit Louis Vuitton – see you there!
---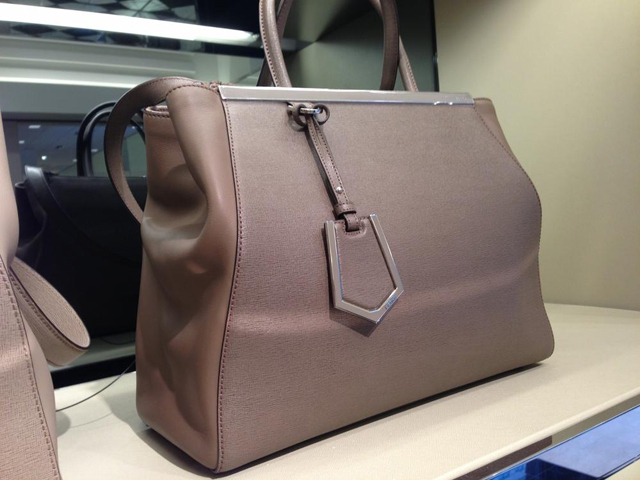 If we were in charge of naming colors for a design house, "squid" would probably not make the short list, so this thread in Fendi immediately caught our eye. We were lucky to spot a bag in this gorgeous but oddly named color thanks to eagle-eyed member KeepCalmCarryOn. If you are looking for more information on the 2Jours, we have a lively thread dedicated to this sharp and stylish bag. Fendi is one of our quieter subforums, but the Authenticate this Fendi thread is always busy. Most of our designer subforums have similar threads, where shoppers can ask our PF family of volunteer bag-spotters for their thoughts on an upcoming purchase.
---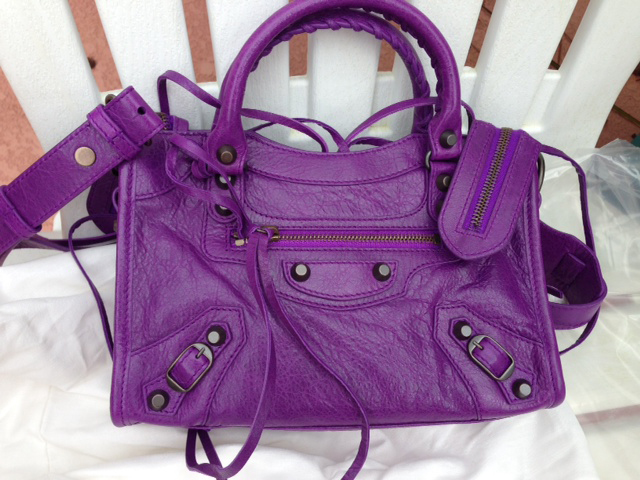 We found some fantastic goodies in the Balenciaga October Purchases thread this week. Nancy in Va started the thread off right with her Ultra Violet Mini City, and pinksky777 and MadamoiselleXO followed closely behind with two more stunning City bags – and that was just on the first page! COPENHAGEN and loveheart posted bracelets, and we fell hard for this bangle. There is a hot bag on every page of this thread, and we can't wait so see what the Bal Gals will pick up this month! Be sure to catch the Action thread to see how our members style their Balenciagas, too. We also found another early present in Balenciaga – this time platinum_babie treated herself to an early milestone birthday gift, and her boyfriend got into the spirit – this fabulous double reveal is the happy result!
That wraps up this first Roundup of November, thank you so much for stopping by to share what we dug up on the PurseForum this past week. Have a wonderful weekend and we will see you right back here in seven short days!
P.S. Please consider supporting our small, bag-loving team by clicking our links before shopping or checking out at your favorite online retailers like Amazon, Neiman Marcus, Nordstrom, or any of the listed partners on our shop page. We truly appreciate your support!