We made it through another week, Roundup readers! It was certainly a busy one for us, and it's well past time to kick back and enjoy reveals and conversations from our busy PurseForum. This week, we dropped into Chanel, Louis Vuitton and Hermès, and that was just the beginning.
Game of Thrones fans are struggling with not only the end of Season 5, but also with, uh, that thing that happened at the very end. If you are missing your favorite Sunday night fare, stop by Television and Cinema to share withdrawal, sadness and conjecture with other fans of the show. Television and Cinema is a great destination for conversations about your favorite shows, along with great suggestions for your next binge-watch in the Netflix thread. Because, if you are like us, you may be in need of a little something to fill in your Sunday nights.
Our photo comes from another destination in the Playgound: The Kitchen. You know the drill if you are a regular Roundup Reader–when we need a photo, we head to The Kitchen's I Ate This thread to salivate over our members' delicious meals and treats! This week, brbshopping went in deep at a wedding, and it looked amazing.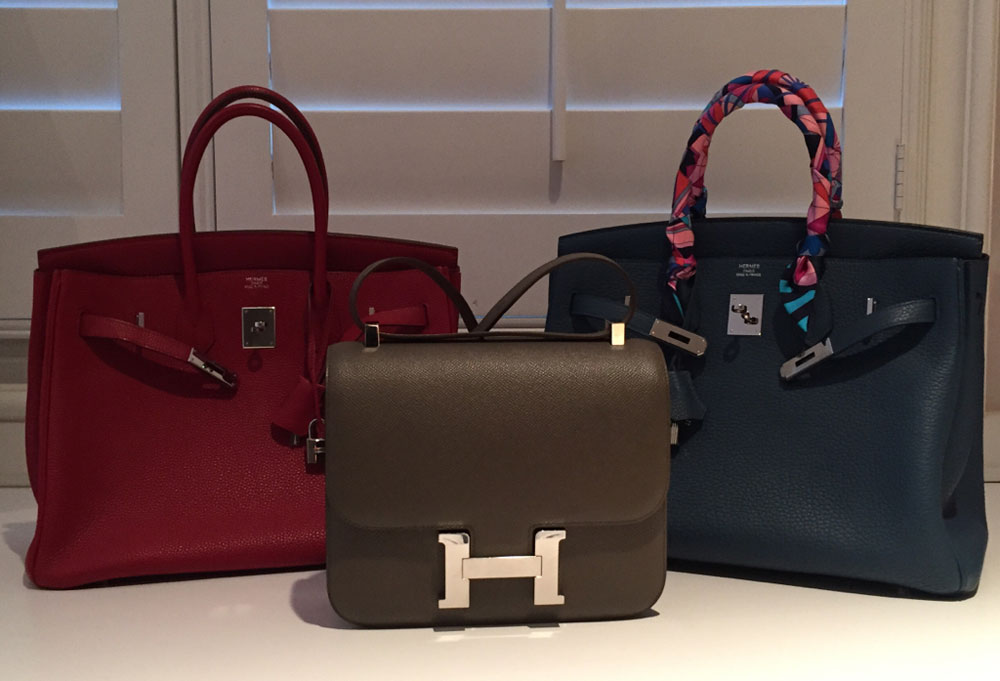 Someone has been very busy in Hermès! This week, we found louboutal's reveal thread, and it's certainly impressive–two Birkins and a Constance are nothing to sneeze at! Sometime you need to strike while the iron is hot, and anyone who has searched for the coveted Birkin knows there's no time like the present when it comes to Hermès.
It's been way too long since we have ventured into the splendid Scarf of the Day thread, so we made up for lost time this week. Scarfies know that there is always a theme in this thread, which you can find right here.
This week's beautiful ensemble comes so us from JetSetGo, who paired a stunning Bride de Coeur with a Mansur Gavriel bucket bag for a truly winning combination. Next week's theme is scarves designed by Hubert de Watrigant, so jump on in if you have something to share.
Ah, FedEx. And UPS. Is there anything that warms a purse lover's heart more than a delivery from one of these magical trucks? This week, FedEx brought sbuxaddict something very stylish from Chanel, and we all got to take a look. This is definitely a new classic.
Hello, gorgeous. This pretty flap came with a bit of a story from avecamoursteph and illustrates once again that it's definitely worth it to hold out for what you really want. Chanel's extra mini flap is such a cute bag; we really love seeing them popping up in reveals, and we hope to see more.
In Louis Vuitton, this Petite Malle from Yoshi1296 certainly stopped the show. You can join in the oohs and ahhs right here in the reveal thread, which has plenty of pictures of this spectacular little bag. Fans will be happy to know this isn't the only Petite Malle in the thread, so jump in and enjoy!
BlaCkIriS shared this special edition Neverfull in the June Purchases thread. This fast-moving thread has a fabulous reveal on every page and will definitely inspire LV fans to add to their wish list. Also in the June Purchases thread, we found Sprinkles&Blings' new Cluny, another example of the very lovely shade called Rose Ballerine. If you aren't familiar with this elegant little bag, you will certainly want to have a look.
We are shamelessly partial to the Chloé Drew, and this one is a beauty. Ipekkeles struggled a bit with her decision, but all we can say is YES! Visit her reveal for more of what went into making this happy ending possible. Chloé was full of decision help requests this week, so if you are feeling opinionated, you may want to visit Danyna0808's Marcie thread, where color is the issue; or Emzbox's thread, where help is needed on a red shade. Nadiya80 is also pondering colors, this time grey vs white, and since the subject is the Drew, we hope we get to see pictures when the decision is made.
That's it for today, Roundup Readers. We know the news this week has been difficult, and we are grateful to be able to give you a little respite in the form of lively conversations and gorgeous bags and accessories. We appreciate you taking the time so spend a few minutes with us, and hope you will also relax and enjoy the PurseForum, too. We will be here again next week, and in the meantime, we hope you have a wonderful weekend and week ahead.
P.S. Please consider supporting our small, bag-loving team by clicking our links before shopping or checking out at your favorite online retailers like Amazon, Neiman Marcus, Nordstrom, or any of the listed partners on our shop page. We truly appreciate your support!