Who is ready for another weekend? We certainly are, and we're glad you elected to kick off the weekend with another edition of the PurseForum Roundup. This week, spring came to Mulberry, we caught up with some burning questions in the Question of the Week subforum and more.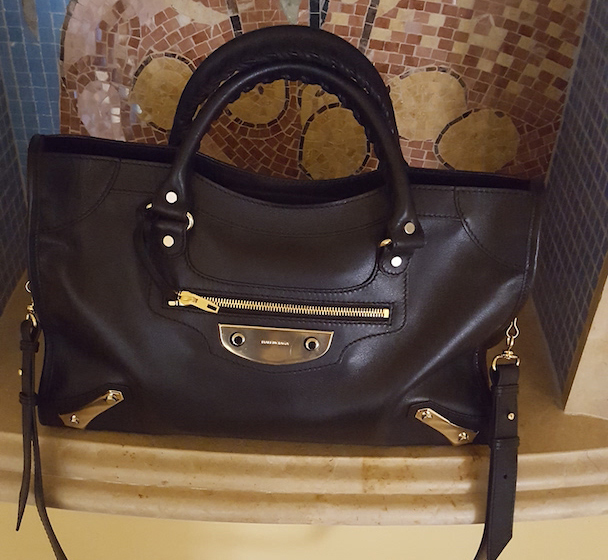 Have you discovered our Question of the Week subforum? This relatively new feature of the PurseForum holds the answers to all of our burning questions, like "What is the Last Handbag You Bought" (answered beautifully by Dextersmom with this Balenciaga Metal Plate City), "Which of Your Bags Gets You the Most Compliments," and the bittersweet "What's the Bag that Got Away?"
In Mulberry this week, Bromley shared a pretty purchase with our Mulberry fans, who certainly appreciated the pop of color; visit here to see what was in the bag! Buttonneux also got a colorful new bag and treated us to a family photo in her reveal thread. 
Our Mulberry ladies are loving the spring Mulberry Bags and Flowers thread, a happy destination full of eye-popping bags and lovely gardens. This charming bag belongs to Loveheart, who also loves daffodils, which are the first spring bulbs to appear in many parts of the United States. This thread will brighten your day, that we promise!
How is this for a pop of color? We found this little gem in the Non-Mulberry Purchases thread. These threads can be found in most all of our designer subforums, and we love seeing the variety of bags and accessories we find when our members confess to cheating on their favorite designers. This Liberty wallet belongs to MinLolipop, and it looks like we may be seeing a tote to follow, so keep your eyes on this thread to see what else makes an appearance.
In Hermès, the "cheating on the brand" theme shifts slightly as our members share their "non Hermès indulgences." For amozo, this recently meant sharing her Karlito charm right along with her stunning Birkin and card case.
Bag lovers know what the Orange Box means, because it always holds something special inside. This week, we found a teeny weeny Hermès Evelyn, one of the brand's oldest designs from way back when it specialized primarily in equestrian items. Visit jw10029's reveal thread for all the details of her new bag and the rest of her Hermès bag family.
We found another bag accessory from amozo's collection that we wanted to share: this time, a strap from Fendi pairs perfectly and adds a bit of fun to this classic Evelyn. We dug this up in the Hermès Riding in the Passenger Seat thread, which never disappoints.
This fabulous Saint Laurent clutch popped up in YSL this week, and we must congratulate maianh_96 on a prefect choice for her first bag from Saint Laurent, though it will always be Yves Saint Laurent to us.
Bagnshoes5 is looking for help deciding which of these three bags to add to her collection. We love a collaborative decision, and there is apparently still time for all of us to weigh in right here. What is your favorite? We are partial to the YSL in this case, though the Gucci is a nice take on the classic.
The WOC or wallet on a chain is an indispensable bag, and an entry-level option for lots of us trying out a new brand. This thread in YSL is a nice comparison between WOCs from Chanel and YSL. If this wardrobe staple is on your wish list, this is the place to get to know more!
Sad16480 must not be sad now, because these two new Coach Rogues are just gorgeous! This bag is really making waves on the PurseForum, and many of our Coach members are going Rogue; check out the teal beauty from loco4coco and this classic saddle tan Rogue from Teagaggle. Of course, there are plenty more bags to see in Coach, like the bevy of bags in the Spring 2016 PCE thread – still going strong!
Also, a belated Happy Birthday to CoachCruiser, who has wonderful taste and picked up two terrific bags to celebrate her special day. That purple lining is just splendid!
That's it for us. Doutzen's picture from the Newest Shoe Purchases got us thinking: it's time for new shoes! So, off we go.
Have a great week and thank you for stopping by. We will see you again next Friday, and remember, if by any chance you have plans this weekend to check out the season premiere of Game of Thrones, be assured that our Season 6 thread is already under way. See you next week!
P.S. Please consider supporting our small, bag-loving team by clicking our links before shopping or checking out at your favorite online retailers like Amazon, Neiman Marcus, Nordstrom, or any of the listed partners on our shop page. We truly appreciate your support!