There has been a steady general inclination towards all-white everything recently. First came the rampant white sneakers. In fact, I was inspired enough by my friend double-timing a pair between college casuals and work suits to get one myself, promptly having them muddied and soiled and vowing to never get a pair again.
Then came the all-white outfits courtesy of the K's and H's of the celeb set (not recommended for those of us with wide undersides. I speak from experience).
A simple white button-down has perhaps been the only item of the color that survived in my closet without degenerating into the "before" picture of Tide commercials (a couple of tiny gravy stains shouldn't count, right?).
My point is, as much as we all adore the look of something in white, it's not for those of us with a penchant for gravy, juice, or coffee and living somewhere with the slightest traces of dirt, grime, mud, rain, or sand. Basically, that includes everybody on planet Earth.
And yet, in defiance of this, the trend towards everything in white is well in place. Now, it's understandable if you wouldn't want to opt for a posh leather jacket or a pair of Yeezys in white right away, but do white purses have the ability to satiate our desire for this particular color (or, well, a lack thereof)? I can already imagine the looks of horror on your faces, and yes, on first thought (and probably on the second and third as well), white bags can seem like bad news. Given that there is a real possibility of the white handles being stained from the sweat and oils on your hand literally just by holding the bag, "babying" takes on an entirely new meaning when it comes to this shade. Plus, you can forget the idea of pairing it with denim. Or setting it on most surfaces. Or keeping it on a shelf even remotely in proximity to purses of any other color.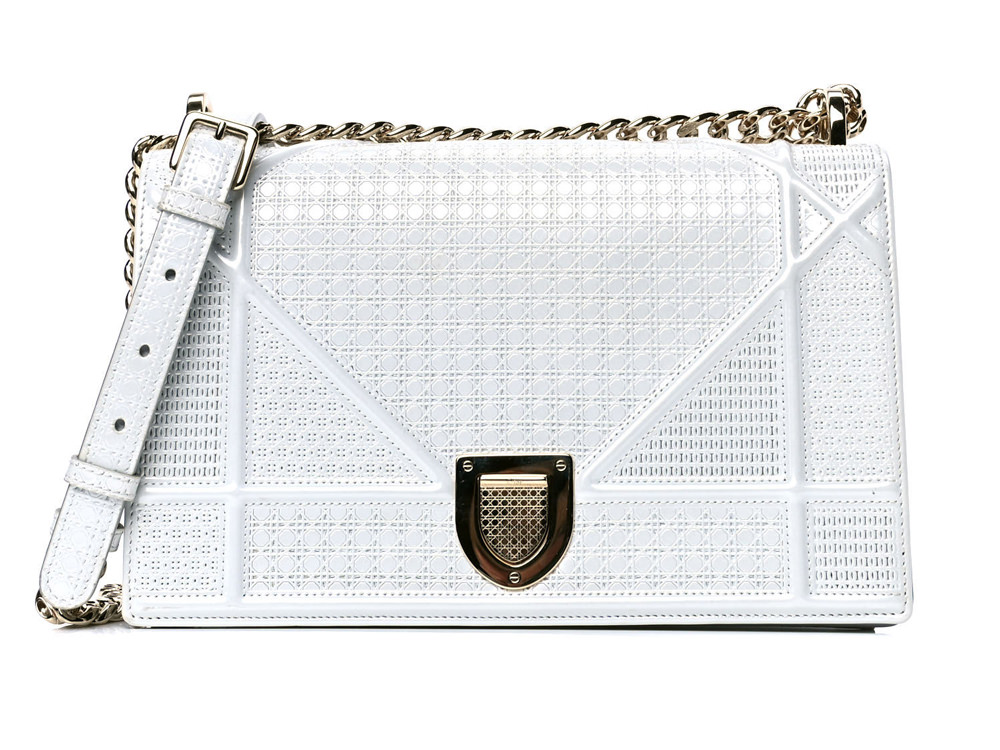 Therefore, if your reaction to "would you buy a white purse" is to slowly back off, turn around and run as fast as you can in the opposite direction, I wouldn't blame you. And yet, just picture the plain white button-down (or for you, sneaker-heads out there, the Air Force 1 '07). Depending on how you style it, it can look casual or formal, bold and glamorous, or quiet and unassuming, and will always remain unfailingly stylish. If your purse could do that (and given that it isn't yet another black bag), would you take the chance? Well, here are a few ways you can incorporate a white handbag into your wardrobe (and possibly even your daily rotation!):
Waterproof your bag
This thread does a great job of explaining and recommending helpful tips for maintaining your white purse (and pretty much any other purse). Still, we're all most familiar with the basics – use moisturizer regularly, use waterproof and color-guard sprays, and don't take it out in the rain. Pro tip: refrain from using baby wipes as much as possible since they contain oils that can stain your light-colored purse or glue more dirt on it.
Pair outfits sensibly
We know that freakish color transfers aren't uncommon in white or light-colored purses, but making a few conscious outfit choices truly goes a long way, like substituting your dark denim with lighter-colored ones and remembering to not store them in a way that they touch other purses and/or prone-to-leaking-colors paraphernalia. Can white be an all-season color, then? Absolutely! It'll compliment your floral summer dresses and winter trench coats with gusto. Bonus? Having a crisp white purse on an all-black fall ensemble is bound to generate excitement amidst a sea of monotonous black bags!
Invest in a "good" white purse
It's probably a marketing ploy made by big brands, but there's no doubt that buying designer does mean getting better quality, at least in certain cases. And just like the issue with suede that I pointed out here, white handbags are thought to be risky purchases. Hence, most people tend to buy, if at all, the fast-fashion, poorer quality versions, getting stuck in a vicious circle of blame and negativity. If you're looking for a white purse that's durable and less likely to disintegrate, do your research. Unless you're buying a white suede bag. Then may God help you.
Don't limit yourself to one type of leather. Or leather at all, for that matter
True, the most gorgeous luscious white pebbled calfskin or lambskin is also the most fragile variety out there, and unless you plan to use it sparingly, it's probably a good idea to steer clear of them for this color choice. On the other hand, this is one of those colors that'll really spruce up the look of other types of leather. A sharp white Prada Saffiano Tote, for example, is the striking embodiment of a "Power Bag" and a great complement to tuxedoes. A patent leather, wipe clean Louis Vuitton Alma Vernis in Blanc, on the other hand, is a glamorous blend of feminity and style. Don't like the logos? The Epi Noe in white is practically indestructible! Fancy a flap? A caviar leather white Chanel is a hardy classic!
That being said, there are so many different materials out there now in which you can obtain a white purse that it seems a shame to limit yourself to just leather. Longchamp or Prada's nylon, Louis Vuitton's Damier Azur, or Goyard's white chevron and Dior's embroidered canvas – the choices are practically endless!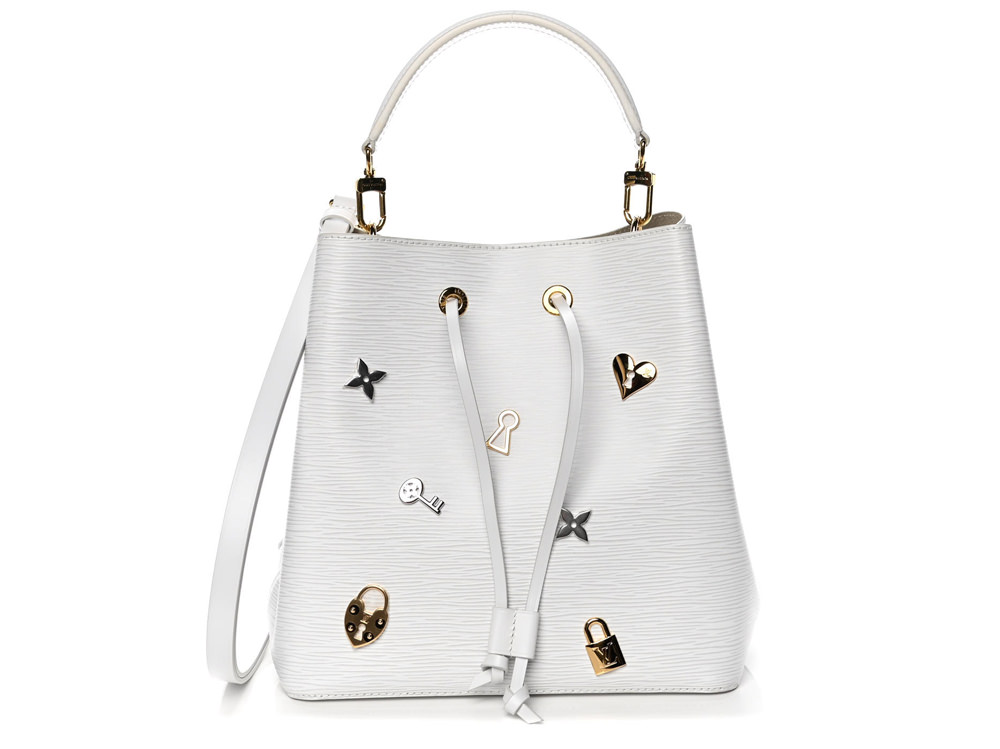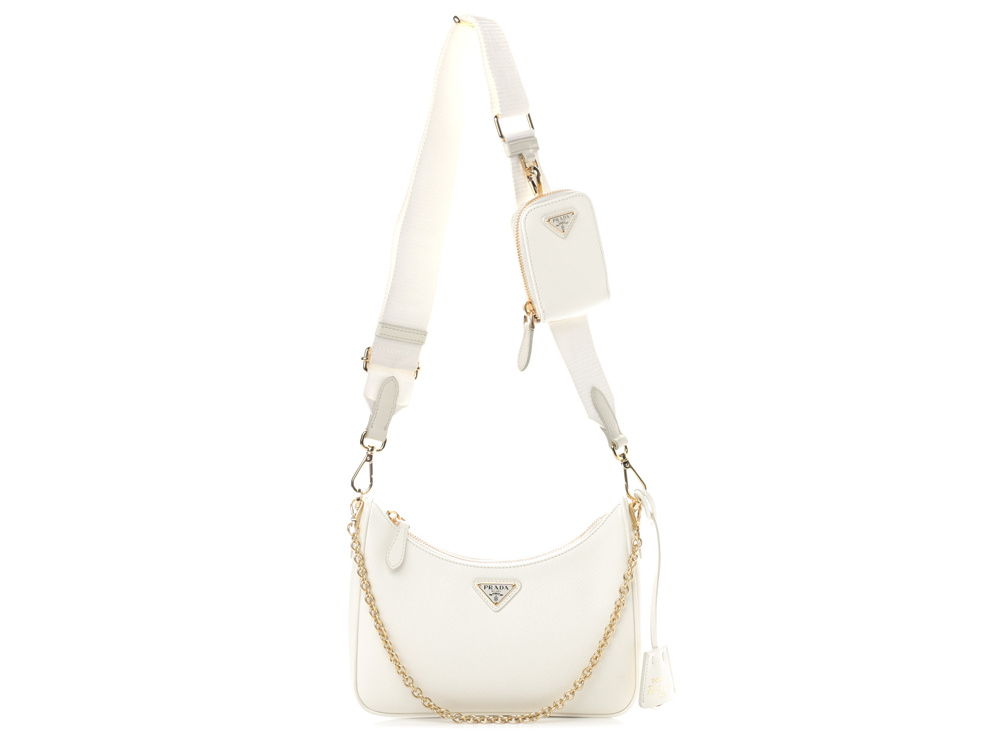 When all else fails, there are still the pros
And that is another reason why you should get your white purse from a luxury fashion house – the bag spa and/or cleaning services from the brands themselves, as well as other professional restorers like the Restory and Handbag Clinic, might be able to largely restore your white purse to its original color in the case of stains/damages that home remedies wouldn't fix.
Buying a white purse and actually using it is a courageous feat. And if you have the patience and ability to take on one and maintain it, you're practically capable enough to handle any purse out there. Although many people would probably disagree, I'd say white is on par with red when it comes to using them as "neutral" shades. A well-maintained white purse signals elegance, boldness, and confidence and still is surprisingly versatile. And the timeless appeal that isn't limited to any particular season? That's just the cherry on the top. So, if you're bored with black and tan and are on the lookout for a cool neutral, don't forget to reconsider white! Until then, I'll be content with my Himalaya crocodile-lookalike briefcase that lets me conveniently pretend that the coffee spill on it was "totally meant to be there."