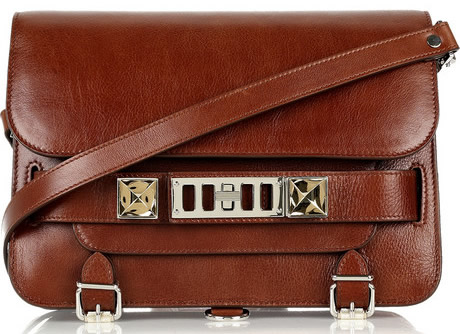 I know that I had deemed this category Want it Wednesday, but what happens when you can not wait until Wednesday to share what you want? You post Friday! Which is precisely what I am doing.
Proenza Schouler introduced the PS11 the night of their Fall/Winter 2010 show. Since its first look the design has been another hit for the brand. With the return of ladylike structured bags, the PS11 is able to bring an edgy touch to an otherwise structured shoulder bag.
The brown leather used on this version is some kind of combination between luggage and tobacco, which results in a perfect hue of rugged chic. The hardware detail is what makes this bag stand apart from the other structured shoulder bags we are seeing (think Celine). Overall, I have this yearning desire for a structured bag that is still young and hip. This is the option. Buy via Net-A-Porter for $1,850.